The Utopian Dream (3.8)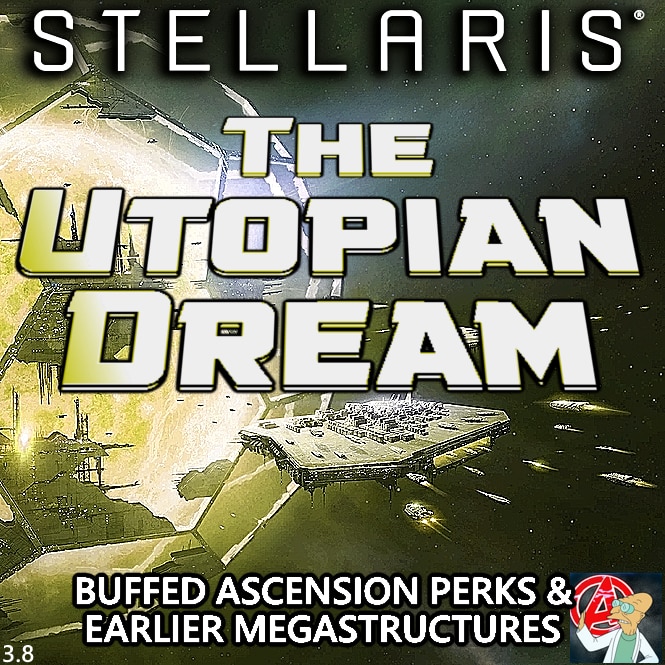 Description:
Buffed Ascension Perks & Earlier Megastructures
Requires Stellaris: Utopia DLC.
EARLIER MEGASTRUCTURE TECH UNLOCKS
Several of the megastructure techs can be unlocked by other ascension perks.
Enigmatic Engineering unlocks the Mega Art Installation tech.
Eternal Vigilance unlocks the Sentry Array tech.
Galactic Force Projection unlocks the Strategic Co-ordination Center tech.
Master Builders unlocks the Matter Decompressor tech.
Shared Destiny unlocks the Interstellar Assembly tech.
Technological Ascendancy unlocks the Science Nexus tech.
EARLIER UPGRADES
Many early stages of megastructures with multiple upgrades no longer require the Mega-engineering tech, and have increasing tech tier requirements instead.
CHANGES TO ASCENSION PERKS
Lots of changes have been made to Ascension Perks to make them less rubbish and more game-changing.
DLC REQUIREMENTS
Megastructures that require a specific DLC will still require you have that DLC.
Ascension Perks that require a specific DLC will still require you have that DLC
You DO need the Utopia DLC regardless.
COMPATIBILITY
This mod modifies
common/ascension_perks/00_ascension_perks.txt
and several files in common/megastructures
If another mod over-rides any of those, it's unlikely to be compatible with this mod. It will depend on load order. I can't prescribe that now, so you'll have to figure it out.
Updated for v3.8.x.
Should be fine with an existing save-game, although some tech unlocks from APs won't be retro-active.
Not ironpants cheev compatible.
Comments re-enabled. Abuse the privilege, lose the privilege.