Resolutions Expanded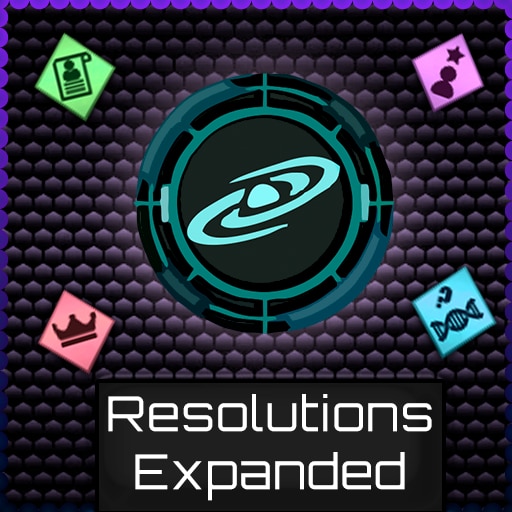 Description:
Have you ever thought the amount of resolutions in the game is too underwhelming? Never fear, this mod adds around 60 new resolutions, ranging from simple cultural changes to extending your grip over megastructures! (Only 47 is available in the current version as it is still being worked on!)
The mod includes 5 new categories with at least 2-3 new subcategories each! Each category focusing on different aspects of the Galactic Community. The mod also additionally adds a couple new events, buildings, policies and even technologies, alongside traits for you gene-tailoring lovers out there!
More to come…
Additional changes and notes
To accomodate for all the new resolutions, all the senate-related timers have been greatly reduced. For example, the recess is only a year-long, and the resolution stays for about 600 days on the floor before being passed
If you want to include a translation from your language, please contact Gordon_CMB#4841 on Discord!
No DLCs are required, but for a greater experience I highly recommend installing Federations and/or Overlord!
The mod should be okay to install mid-save, as I haven't detected any issues when testing
TRANSLATIONS
English – How do I put it…
Russian – Maintained by Gordon_CMB. Completed 100%
Portugese – Not implemented. No translator
German – Not implemented. No translator
French – Not implemented. No translator
Spanish – Not implemented. Maintained by OMG67. WIP
Polish – Not implemented. Maintained by Pakucza. WIP
Simplified Chinese – Maintained by sunxyw. Completed 100%
Korean – Not implemented. No translator
Japanese – Not implemented. No translator
Once again, I will be extremely grateful to see if anyone is willing to help out with the translations, I'll credit you as an author! Your services will be appreciated 😀
COMPATIBILITY
This mod has the resolutions in separate files compared to vanilla and as such, should be compatible with other mods that add more resolutions. Please be aware that all of the mods have been tested with Resolutions Expanded on top of the mod load order! Depending on the position of your mods, the results may vary. The current mods were tested:
Galactic Community++ – Partially Compatible. Resolutions from both mods work and appear proper, but the Resolutions Expanded resolutions appear without a category
Expanded Espionage and Diplomacy – Fully compatible. Resolutions do not interfere with each other
Dawn of the Republic – Potentially fully compatible. Resolutions do not interfere with each other
New Galactic System Ever Universe's version – Fully compatible. Resolutions do not interfere with each other
z Expanded Traits, Civics, Pops, and More – Potentially fully compatible. There was an issue with policies but is now currently resolved
Even then you should still be aware of potential issues when playing with several mods, especially the balancing! While Resolutions Expanded runs fine on itself when installing it onto an existing save game, issues might arise when installing new mods. Be vigilant and always back up your saves to avoid such problems!
That is all, enjoy!
If you find any issues or bugs, please do notify me! I'm still a new modder
The mod will be worked upon, and the final two resolution categories are to be added in future updates, stay tuned!
Also, if you have any issues with balancing or suggestions for additional resolutions, also do let me know, I highly appreciate your feedback 🙂
Download
Revisions:
Old revisions of this mod are available below. Click the link to download.