Planetary Diversity – Reworked Terraforming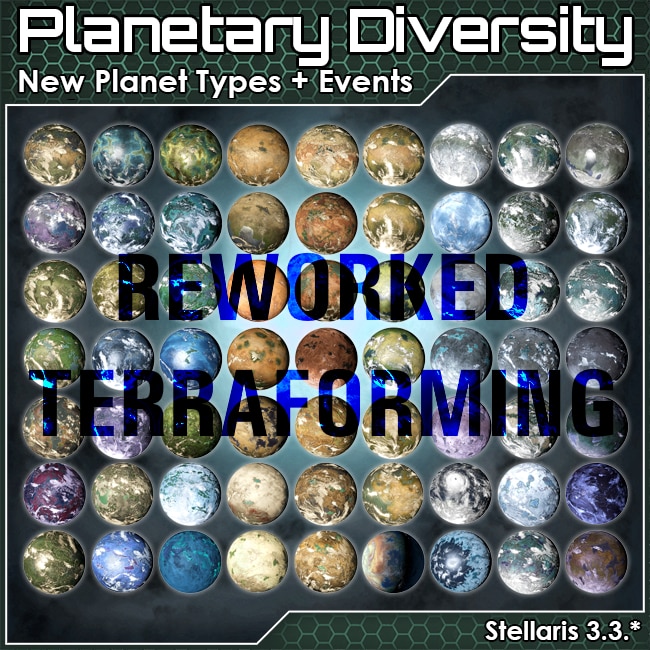 Description:
If you're like me, then you absolutely love Planetary Diversity. There's just one problem…pop open the terraforming window and you've got 70+ planet classes staring back at you! Well no more I say! This mod redesigns terraforming and allows players to better filter the terraforming menu.
Technology: Terrestrial Sculpting – Allows Terraforming of basic planet classes within their type (example: Alpine to Tundra)
Technology: Terrestrial Biome Manipulation – Allows Terraforming between basic planet types (example: Alpine to Desert)
Ascension Perk: Breath of Creation – Unlocks 5 technologies to terraform 5 types of uninhabitable worlds to basic planet types.
Ascension Perk: Sublunaris Progressus – Allows terraforming of basic planets classes to rare planet classes (example: Alpine to Geothermal). Also allows terraforming between rare planet classes (example: Gaia to Geothermal).
Megastructure: Gaia Transformation Module – Enables transforming Planetary Habitats into Gaia Worlds.
Load Order
Planetary Diversity
Planetary Diversity – Submods
Planetary Diversity – Reworked Terraforming
Compatibility
This mod has built in compatibility with all Planetary Diversity modules and Guilli's Planet Modifiers and Features. Please ensure that this mod is placed below these mods or the terraforming links will be overwritten. The three vanilla terraforming link files have been blanked, but no other vanilla files were harmed in the making of this mod.
Translations
Anyone interested in translating this mod is quite welcome to do so. I'd be happy to add the localization files and credit the author.
English provided by Omega
Simplified Chinese provided by Tatao
Current patches for non-Paradox supported languages: