Extra Districts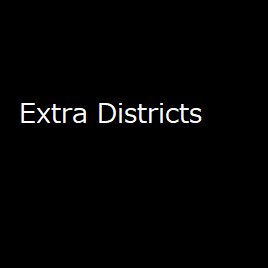 Description:
This mod add a few districts, like "District Overhaul". Actually, more-than-a-few ideas are bollowed from "District Overhaul Test Branche"
See "Features list" about its features.
Future Plans:
– More basic resource districts (If I can give good distinctiveness for them).
– Facility districts for ethic attractiveness (For example, Mission districts that provide missionary job that add Spiritualist attractiveness). Unfortunately, there are Paradox issues about job's "pop_ethic_X_attraction_mult" and "ethos" trigger, so I wish they will be fixed in Stellaris 3.4.
List of overwritten files and items:
– Some defines (NUM_DISTRICTS_FROM_PLANET_SIZE, MIN_UNBLOCKED_DEPOSITS, COLONY_DEPOSITS_FIXED_BASE, COLONY_DEPOSITS_RANDOM_BASE, COLONY_DEPOSITS_FIXED_FROM_SIZE, COLONY_DEPOSITS_RANDOM_FROM_SIZE, NUM_DISTRICT_BOXES_TO_SHOW).
– district mandates in common/mandates0_mandates.txt.
– "farming_districts_value" and "toxic_attendant_growth" in common/script_values.
– "job_scrap_miner_desc" and "job_scrap_miner_drone_desc" in ancient_relics_l_(language).yml.
– Some scripted trigger (has_research_building, has_any_industry_district, has_any_farming_district_or_buildings, has_any_mining_district, has_any_generator_district_or_building)
– Some scripted trigger (SCO_slave_without_invalid_district, from "Special Colonies Overhaul")
– "pw_mining_districts_value" in common/script_values. (from "Planetary Wonders")
Compatible mods list:
– "More Standard Districts"
– "Special Colonies Overhaul"
– "Planetary Wonders"
– "EUTAB – Ethos Unique Techs and Buildings | Unofficial Update (3.6.X)"
– About "Planetary Diversity" and its submods, use "Extra Districts – PD compatch", a compatibity patch
Note; I am lukewarm about compatibility with other mods that I am not familiar. If you create compatch on this mod and that mod. it is more than welcomed.
Download
Revisions:
Old revisions of this mod are available below. Click the link to download.