!!ACG More AI Personalities Comp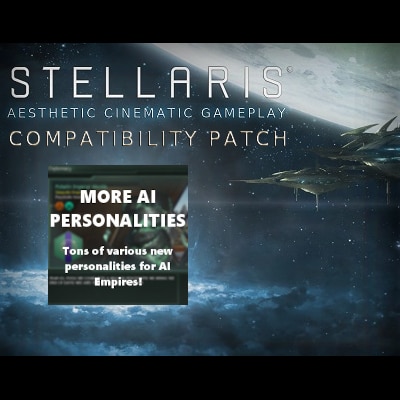 Description:
Compatible with 3.0.*
Save game compatible
NOT Achievement compatible
About this mod
This is the compatibility patch for More AI Personalities and Aesthetic Cinematic Gameplay.
Attention:
If you want to use "ACG" and "More AI Personalities" together, you will have to subscribe and activate all three mods with the following loading order:
1. More AI Personalities
2. Aesthetic Cinematic Gameplay (=ACG)
3. !!ACG More AI Personalities Comp
Features
ACG received a major AI update. In order to make the new AI Personalities that are introduced with "More AI Personalities"-mod work properly with ACG i had to publish this compatibility patch.
*Main Feature: relabanced and optimized "More AI Personalities" for ACG => much better AI Behavior that fits perfectly with Glavius AI + the new AI Update of ACG
*Side Feature: improved weapon type preference diversity among those new AI Personalities otherwise you would f.e. almost never see explosives/strike craft focus because with the original mod almost all empires were focused on energy/kinetic => with this Comp. Patch the distribution of preferences for weapon types will be more balanced/even … and more
=> I highly recommend to use this mod together with ACG + More AI Personalities if you want to have a better balanced/engaging gameplay experience that fits into the ACG gameplay experience!
If you find any bugs please let me know at the comment section.
[discordapp.com]
If you like this mod: