At War: Advanced Ship Sections (3.0.3)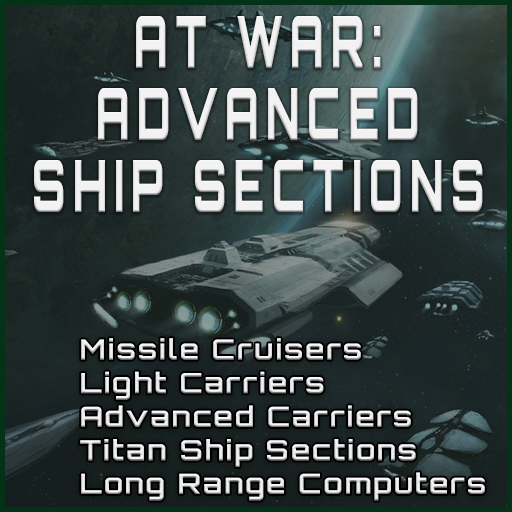 Description:
This mod is a continuation of the original, created by The Dadinator, and now updated and maintained following his expression to discontinue support.
This mod may be removed if he returns to the modding community and wishes it taken down to consolidate effort.
Original Mod
Original Description (links culled to avoid misdirection):
====================================================================
Need more advanced carrier ships at the cruiser, battleship and titan classes? Need a stronger missile cruiser? Want your long range ships to fire at a greater distance? A few extra techs can give you a stronger naval fleet.
Little disclaimer
I was not able to test it yet. gonna test it in the next few days
Features
Rapid Response Destroyer Bow – Get an early hangar to go with the early strike craft technology.
Missile Cruiser Designs: Engineering tech that unlocks new cruiser ship sections for more missile / torpedo focused cruisers.
Light Carrier Cruiser Designs: Engineering tech that unlocks new cruiser ship sections for building light carrier-dedicated cruisers.
Advanced Carrier Designs: Engineering tech that unlocks new battleship ship sections for building carrier-dedicated battleships and titans.
Additional Titan sections to give more variety.
Advanced, Sapient, and Precognitive artillery combat computers for long range (120) and max range (calculates weapons max range).
Combat computers support New Ship Classes & (NSC)
Advanced Missile Ship corvette section.
Compatibility
No vanilla files were harmed in making this mod.
Compatible with Stellaris v3.0.3
As with any mod that affects game play, NOT achievement compatible.
Bugs, Feedback and Suggestions
You can post comments here or in the Discord channel for the mods[discord.gg]. I take all constructive feedback and suggestions seriously.