Leader Capacity Balanced & Compatible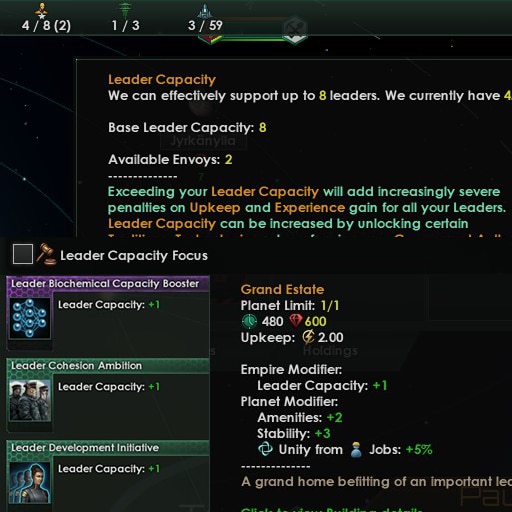 Description:
Tired of mods that either overpower, underpower, or just overwrite too many files? This mod is for you.
What does this mod do?
Increases base leader cap to 8 (+2 from vanilla).
Adds unique building that increases leader cap by +1, and some other small benefits (1 per planet).
Adds 4 additional technologies that increases leader tech by +1.
Adds an edict that increases leader cap by +2.
Why choose this mod?
I looked at a lot of leader cap mods. Some mods increase it so that leader cap doesn't matter. Others fall short of expanding for late game for multiple sectors, fleets, scientist, etc. For me this feels like the sweet spot between keeping early game balance, and having the ability to expand to late game needs. By basing leader cap off total planets will allow for potentially unlimited expansion, but only as you expand through natural progression. Rather than altering vanilla buildings for smaller gains this just adds a new building which the player can choose to use or not.
Known Bugs:
The building will display a purple icon for leader cap due to Stellaris not being built to have leader cap buildings. If anyone knows how to fix it let me know. But otherwise its purely ascetic.
Compatibility:
No vanilla files were harmed, but will not work with mods that change base leader cap. However if you wish to change the base cap just load that mod after this one.