Vampire: The Masquerade Emblems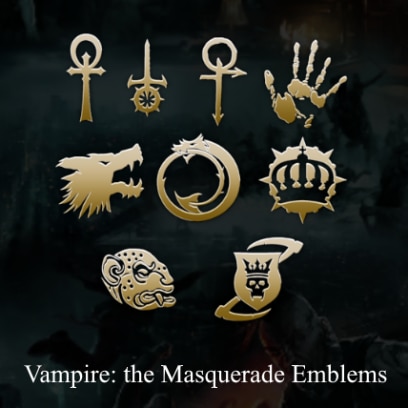 Description:
This jumbo-sized pack contains 131 emblems from Paradox Interactive's "Vampire: the Masquerade." Featuring symbols from across the franchise's history, from its original publication in 1992 to the present day, this collection has a little something for everyone, from the lowliest ghoul to the mightiest Antediluvian. Inside can be found logos for the Clans (including the turncoat antitribu,) Paths, Bloodlines, Cults, and even designs from the pages of the infamous "Book of Nod" itself!
Note: These symbols will NOT spawn in randomly generated empires.
Want even more bloodthirsty goodness? Be sure to check out Armurr's Vampire: The Masquerade – Stellaris Edition mod here! If you're looking to conquer the galaxy with more feral, monstrous vampires, be sure to have a look at Nozeminer's Vampire Beast Portraits.