Kugelraumer Shipset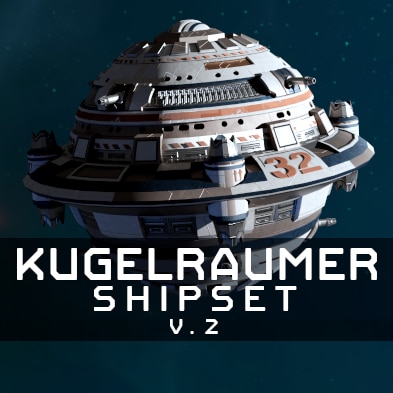 Description:
The Kugelraumer-Shipset adds starships and stations inspired by Perry Rhodan to Stellaris. These iconic starships have been featured on book covers and technical drawings for sixty years. Now they are brought to life in-game!
Workshop Version 3, adding the PRAETORIA Juggernaut and adding some texture & effects fixes.
A complete set of modular retro-futuristic designs
The designs featured in this mod are no 1:1 recreations of canonized ships and structures, but rather interpretations adapted for a cohesive style and the requirements of the game. All models are custom made for the mod and
sectioned . You can combine different modules for a wide variety of visual and functional designs.
The shipset features custom…
> Corvettes
> Destroyers
> Cruisers
> Battleships
> Titan
> Juggernaut
> Colossus
> Science, construction, transport, and colony ships
> Science & Mining stations
> Outposts, Starbases, etc…
> Habitats
Roadmap
I'm keeping an eye on the comments here and collect issues, adjustments, and suggestions here.
Fixes
> Texture (window glow & reflection)
Potential future plans
> Alternate Set-Versions (downscaled, flipped ships, etc.)
> NSC2 support
No promises here, but I'll look into it!
This version is still a work in progress, so bugs and future updates to assets and models are to be expected.
special thanks to the helpful folks over at the Stellaris Modding Den. Go check them out: https://discord.gg/bHVez2C
extra special thanks to user Avatar ( https://steamcommunity.com/id/Avatar1987 ) for help and advice on the project!
created by Alexander Böhm / Martechi
More info, art, and animations:
DeviantArt: https://www.deviantart.com/martechi
Facebook: https://www.facebook.com/MartechisArt
Youtube: https://www.youtube.com/channel/UCxtLo_bCdlRJFvBeRFvAmhg