Auto Demolish And Build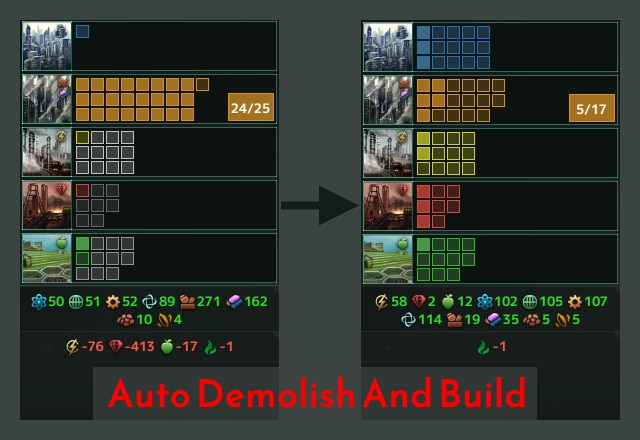 Description:
[Version 3.4]
Mod for those who have trouble managing planetary production
Optimize districts and buildings so that each planet's balance of income and expenditure is stable.
Please use this function when the number of planets increases and the player's management allowance is exceeded.
Main functions (enable/disable from planetary decisions, all switching by capital planet)
・If the resources of the entire empire or planet are overproduced, the relevant districts or buildings are destroyed.
・If the resources of the whole empire or the whole planet are in short supply, the related district or building is automatically constructed.
・Destruction of duplicate buildings that are deemed useless.
・If there is space in the building and the income and expenditure are stable, then the laboratory or resource silo,
and if necessary, the holo theater, precinct house, and administrative office can be built automatically.
・Upgrade buildings when available job slots are low.
・Upgrade capital.
Requirement
・Regular planet
・Regular empire
Detailed settings
・Resource balance
common/scripted_variables/rc_adab_needs_build_demolish_factor.txt
・Build/Demolish conditions
common/scripted_triggers/rc_adab_needs_build_demolish_conditions.txt