More Picks & Points: Traits|Civics|Ethics [LITE] (3.1+)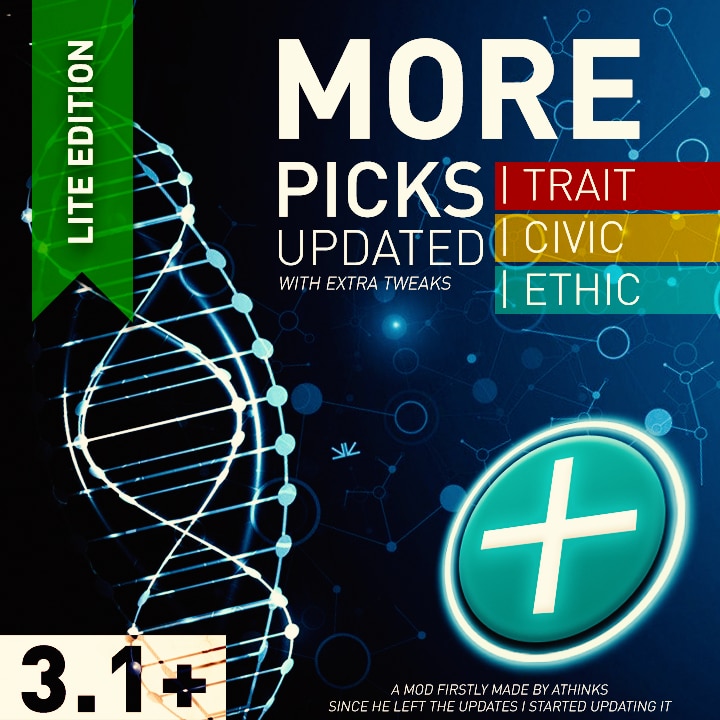 Description:
This is the updated version of the mod More Picks & Points: Traits|Civics|Ethics [LITE] (OUTDATED – 2.7+) for stellaris version 3.1.
This is a basic mod that gives the player a bit more freedom while creating a new empire. It simply adds more trait points and picks, adds ethics and civic picks.
The original mod was made by Athinks ( https://steamcommunity.com/sharedfiles/filedetails/?id=1591293882 ), but since he doesn't update the mod since January, 2019, I decided to reupload it with some tweaks. It now works for lithoids and the ethic tweaks are updated to post 2.6.
This is the Lite Version of the Standard Edition and copies the exact tweaks from the old mod.
List of the Lite Edition tweaks:
• SPECIES TRAITS •
>> Starting trait points
– Machine -> 2 [Vanilla: 1]
– Biological -> 3 [Vanilla: 2]
>> Max traits
– Robot -> 8 [Vanilla: 4]
– Machine -> 8 [Vanilla: 5]
– Biological -> 6 [Vanilla: 5]
• GOVERNMENT •
– Ethic picks -> 4 [Vanilla: 3]
– Civic picks -> 4 [Vanilla: 2]
• ETHIC COSTS •
– Gestalt Consciousness -> 4 [Vanilla: 3]
(It's balanced, you can't pick Gestalt ethic with another aditional ethic)
• VARIANTS / EDITIONS •
In order to please all kinds of players, I made 3 versions in this way: "Lite Edition", "Standard Edition" and "BEAST Edition"… To know more, please visit the Standard Edition.
• MORE INFO? •
For more information visit the STANDARD EDITION.
• COMPATIBILITY •
Supposedly compatible with all 3.1.* patches.
It should be compatible will all mods which doesn't touch ethics, civics and traits points and picks.
• DEVELOPMENT •
Help improve this mod at • Updates and Bugs •
• SPECIAL THANKS •
Special thanks to the following Steam users:
Athinks – for being the original modder;
Cyber Vixen – for helping me and updating the ethics file;
Free Bird – for alerting me about the ethics outdated tweaks;
Alastair – for helping and writting the mod update for 3.1.*;
Дитрион – for helping with update 3.1.*;
Ryonia Coruscare – for tweaking and improving Alastair 3.1.* update code.
If you like the mod rate and thumbs up this updated version and the original modder please.