Stellaris: Reborn III (1/6)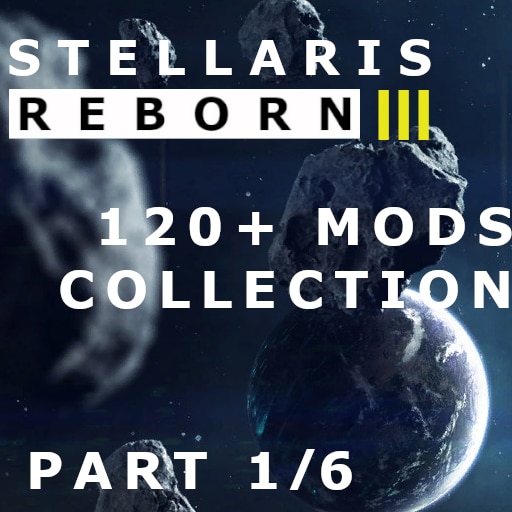 Description:
Stellaris: Reborn III has been reuploaded, because of the incompatible tag (Which was removed before we reuploaded) we disappeared from the workshop front page. We now have every permission from every author and hope to maintain the current version!
Comment Section can be found under the title of the mod!
Discord: https://discord.gg/Tub77UdUbK
Do. Not. Run. Any. Other. Mods. Besides. This. One.
(Except the ones marked as optionaly)
Stellaris: Reborn III – Part 1
All 6 Parts are required!
Stellaris: Reborn III is the successor to Stellaris: Reborn II and is again adding content from over 120+ mods to your game!
Experience Stellaris like you have never played it before!
We also ensure full compatibility between the added mods.
Donation Links:
Author: GULUERE
Upper Limits V3.0+
Patreon[www.patreon.com]
Author: COMPLEX
Storypack: The Nyblax and the Collector
Patreon[www.patreon.com]
Author: PSIONIC
[United Fleet]Mobile Shipyard
Patreon[www.patreon.com]
Disclaimer:
Every mod in this pack is added with full permission and cooperation of the author of each mod. Planetary Diversity and UI Overhaul Dynamic has denied their permission so they had to be added as dependency. The mods marked as optionaly also denied being added (Except Kurogane, this one was just too big in file size) but they are tested with Stellaris: Reborn III and work just fine.
IMPORTANT: Load order in the launcher:
Please also use the mods marked as "optionaly"! Stellaris: Reborn III has not been tested WITHOUT them and you may experience issues if your are missing them..