Clearer System Occupation Icons – ALTERNATIVE 2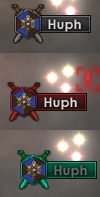 Description:
Replaces the tiny pips on fully occupied / invaded systems with, crossed swords behind the flag banner. Just 1 DDS edit, so should be achievement compatible.
Note: The blades will only appear when the star base and all colonies in a system (if any) are occupied. If you don't see the blades, there is more to capture.
Alternative versions (only use 1):
Crossed Swords on top of flag – https://steamcommunity.com/sharedfiles/filedetails/?id=2454552795
Raised Swords beside flag – https://steamcommunity.com/sharedfiles/filedetails/?id=2461099108