Xeno Fauna 1.9 Edition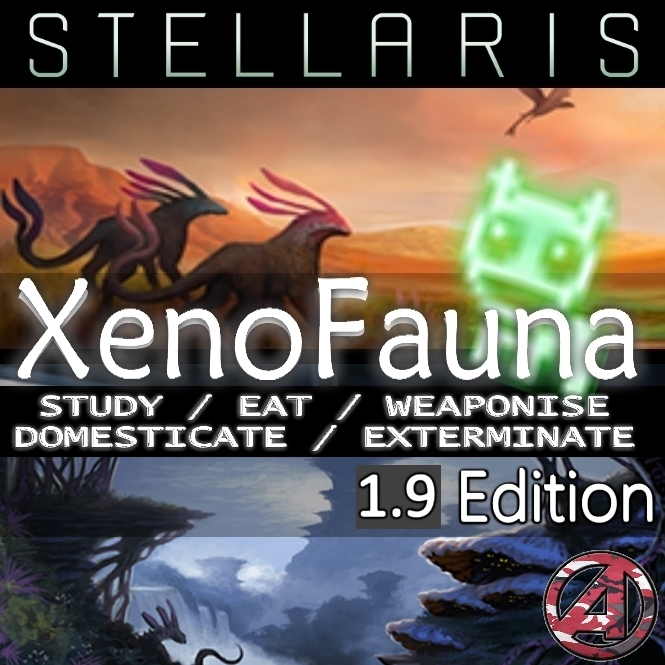 Author:
AlphaAsh
Last revision:
22 Dec at 20:19 2017 UTC
Description:
Find and exploit animals on alien worlds.
This simple mod adds several planet-based alien animals (strategic resources) for you to discover and exploit.
Here's how you go about doing that:
1 – Research Xeno Life Studies.
2 – Build a XenoFauna Studies on a planet.
3 – Clear some blockers on that planet.
Depending on local conditions, there's a very small chance that some interesting xeno fauna will be discovered once a blocker is cleared.
Each type provides a small empire bonus by just having it but you can build empire unique buildings on the deposit for further bonuses. The empire unique building on a deposit provides the majority of the empire modifiers, not the SR itself.
There are currently 10 different xeno fauna types to discover.
DISCOVERING ANOTHER DEPOSIT
A generic breeding center, that is built adjacent to a second deposit of a Xeno Fauna type already being exploited on another planet, increases that deposit by 1 once complete.
Further, if there's no building on the second deposit, an additional specialised breeding center is immediately added to the deposit's tile.
This allows you to exploit any additional instances of a Xeno Fauna type you are lucky enough to find.
COMPATIBILITY
This mod modifies the following vanilla files: common/technology/00_soc_tech.txt
Built against v1.8.3. Untested on 1.8.2 or earlier.
Should work fine with an existing save-game.
RECOMMENDED MODS
If breeding space-borne creatures is more your thing, please try Gwen's Domesticated XenoFauna, which is one of the inspirations for this mod: http://steamcommunity.com/sharedfiles/filedetails/?id=817648237&searchtext=domesticated
Licence: Original artwork is copyright the author & Alpha Strike Games Limited.
Majestic Trials (A Game My Wife and I Made With Wizards In It):