Maximum Fleet Size: 50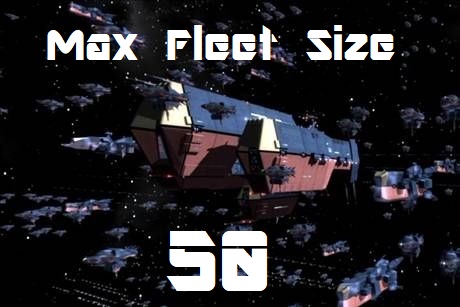 Description:
So, waiting for 2.0 is taking forever, isn't it? SO, to help with that, I have discovered something that can help with the Doomstack!
This mod reduces the amount of ships that can be in any one fleet to 50 ships. This makes itso you and the AI have to make multiple fleets with multiple admirals each, and have to control them and manage them! This is mimicing a change that will come in 2.0, with maximum fleet cap per admiral.
Howevr, this isn't a perfect telling of what will come in 2.0 What this does NOT do is add in researches to increase this limit. Unfortunately, that means the cap is ALWAYS 50, from day 1, to year 4000, it's always 50.
This method has been seen by Wiz, and he stated it wasn't really used because it just makes AI spam fleets instead of dealing with the doomstack, as Wiz said here: https://www.reddit.com/r/Stellaris/comments/4f173o/maximum_fleet_size_or_averting_stack_of_doom/
TL;DR:
This mod ADDS:
* A cap of 50 ships per fleet
This mod DOES NOT add:
* Researches to increase the cap
* The ability for admirals to increase the cap
* Supply lines and limits
* Anything else
Image is not mine, just editted by me!
=================================
THIS MOD WILL NOT BE SUPPORTED AFTER 2.0
=================================