NCE-Light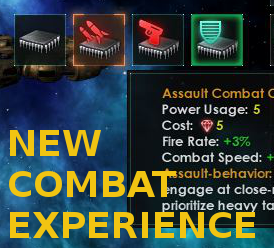 Author:
Pyst
Last revision:
27 Sep at 00:16 2017 UTC
Description:
Lightweight Version of the New Combat Experience mod.
Only includes changes to combat computers and ship behaviors.
PURPOSE:
The goals of this mod are to allow the player more control over fleet behavior, and to improve ship targeting behavior.
MOTIVATION:
Currently, the only way to customize how the various ships in your fleet act is to alter their weapon loadouts. The underlying behavior, however, is not clearly communicated to the player, is not intuitive when reading the define files, and often doesn't behave how one would want. The end effect is that naval combat doesn't offer many interesting choices to the player, and can feel boring.
CHANGES –
– Combat Computers have been repurposed to provide customizable ship behavior while not being overwhelming.
—Can now choose between assault, harass, escort, and skirmish. Each behavior has specific movement patterns and target priorities.
COMPATIBILITY:
Instructions on how to integrate these changes with mods that alter game files touched by this mod is described in a txt file in the mod folder.
Check out the full mod with loads of rebalancing here: http://steamcommunity.com/sharedfiles/filedetails/?id=1139711336