TALL WHITE ships and stations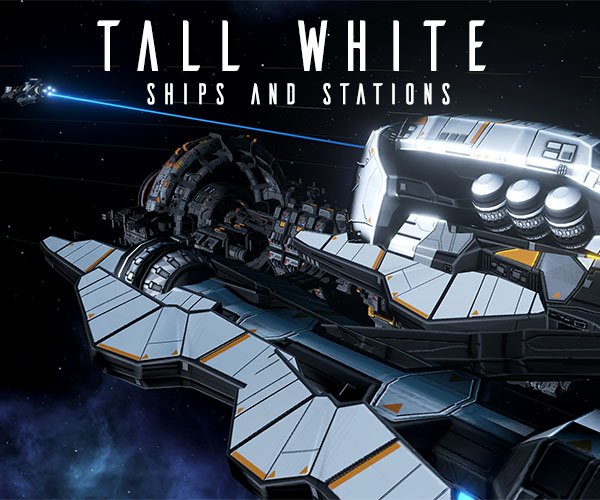 Author:
COLA
Last revision:
13 Jan at 01:52 UTC
Description:
It is simple MOD just to add new choice to ship appearance.
I made it with the concept of Tall White's[cryptidz.wikia.com] spaceship.
ship set(only)

modeling and textures by ncmod3d
The feature of this MOD is that it displays all ships with one texture.
Look at the file size,It is probably a small one in MOD of ship set!
(Perhaps using one common texture in multiple models, the load on Graphics pipeline will be reduced, so game play will be lighter)

12/17/17
Fix turret locator(all ships)
12/16/17
Fix turret locator(all vanilla ships,and a little of the NSC's ships)
12/13/17
Fixed bug that stations darkens on ship designer screen
Add luminescent effect of station
12/10/17
The color of ship will change according to flag color of your empire
12/08/17
UPDATE to stellaris1.9
船の外観に新しい選択肢を追加するだけの簡単なMODです。
トールホワイト[machiukezoo.biz]が使用している艦船というコンセプトがあったりなかったりします。
しっぷせっと modeling and textures by ncmod3d
このシップセットの特徴は一つのテクスチャですべての艦船のテクスチャを表示していることです。
シップセットMODの中ではかなり容量が小さい方だと思います。(なので負荷も少しは軽くなるかも?エンジン内部の動きはわからないけど3Dパイプライン的には軽くなるはず・・・

17/12/17
タレットロケーター修正(全ての艦船)
17/12/16
タレットロケーター修正(ヴァニラ船全て、NSC船の一部)
17/12/13
設計画面でステーションが暗くなるバグを修正
ステーションの発光効果を追加
17/12/10
帝国のフラッグカラーによって船体の色が変わるように変更
17/12/08
stellaris1.9に対応