Imperial German Portraits Revived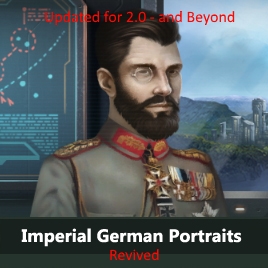 Description:
This mod adds a new Humanoid portrait set to the game taking inspiration from the old German Empire (Kaiserreich) as well as the Imperial Eagle as its coat of arms. That's about it – no new prescribed species etc. You'll find it in the "Humanoid" section so there's no specific ship type, cityscape, etc. created just by adding this.
There's also a Name List designed to accompany this Mod. It's NSC-compatible but you can also use it without NSC:
https://steamcommunity.com/sharedfiles/filedetails/?id=1106700733
IMPORTANT NOTE:
+++This is an Updated Version of Ulmont's Imperial German Portrait – Mod. I regard this a maintenance service only so I won't tinker around with Ulmont's work beyond keeping compatibility to updated versions of Stellaris.
Compatibility:
1.8.X
1.9.X
2.0.X
2.1.X
Humanoid Species Pack supported but not required!
Subscribe to Ulmon't Original Mod if you run a pre 1.8.0 installment!
Link to Original Mod: https://steamcommunity.com/sharedfiles/filedetails/?id=687816935
Disclaimer:
I DO NOT OWN ANY OF THE USED ASSETS AND WILL EVENTUALLY REMOVE THIS MOD IF THE ORIGINAL AUTHOR WISHES SO!+++