Tech Tier Events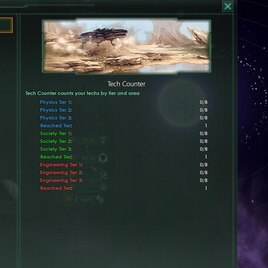 Author:
timOkills
Last revision:
16 Dec at 11:43 UTC
Description:
The "Tech Tier Events" mod adds an event chain that counts researched technologies and notifies when a new tier is unlocked.
In the corresponding Situation Log entry, the number of researched technologies per area (phyiscs/society/engineering) and per tier (1/2/3/4) are show.
NOT Ironman and multiplayer compatible.
If every participant of your multiplayer game has this mod installed you might be fine.
———————
Known Issues:
– Technologies added by other mods are not counted (I cannot fix this as long as I cannot filter last_increased_tech by tier/area -> support has to be added by Paradox).
———————