The Rick and Morty Overhaul 1.8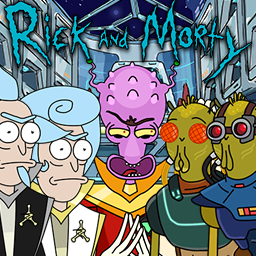 Description:
Features:
Works with version 1.9.*.*
6 custom made empires from Rick and Morty, all with hand drawn portraits(the plan is to add 17+)
Custom loading screens and custom menu music
Many small graphical changes to make the game feel more like the show
Unique empire traits, sound effects and pops (Mr Meeseek)
And many other things
Version 1.8
Updated the mod to work again. Lots of cleanup and bugfixing to make it work. Credit to Mr. Sneezy 3D
Added 2 new races; Earth C137 and Beta-7(requires Utopia dlc if you want a premade Hivemind race, you can still select them for portaits and make your own race) with custom made portraits and flags. Credit to InstantWalrus
New environments, tiles and tile blockers. These are still WIP.
Loading music works again.
Mod is faster to load and smaller in size.

Version 1.7

Updated to work with the new patch/dlc

Version 1.6

Added the Garblovian empire
Custom Garblovian species portraits
WIP:
New Races ( Gazorpians, Unity)
Custom Traits
Special Pops
Custom Tile Blockers
If you have any requests, ideas, suggestions and so on post them here or in the Paradox forum thread.
Paradox forum thread:
https://forum.paradoxplaza.com/forum/index.php?threads/mod-rick-and-morty-graphic-pack.930601/
Credits:
Artists:
Abracadaniel
InstantWalrus
Coders:
Mr. Sneezy 3D
Sky Whale
InBenTex The Orange
!Looking for!
Animator or anyone with knowledge of Mayas rigging and animation system.
2d artists who can paint in the style of the show.
3d artists who wanna try and make some new models (Rick spaceship, retexture etc.)
sound guy, help gather clean sound effects from the show.
Writer, someone with good lore knowledge, good writing skills.