Big Bumper Book of British Names (NSC Compatible)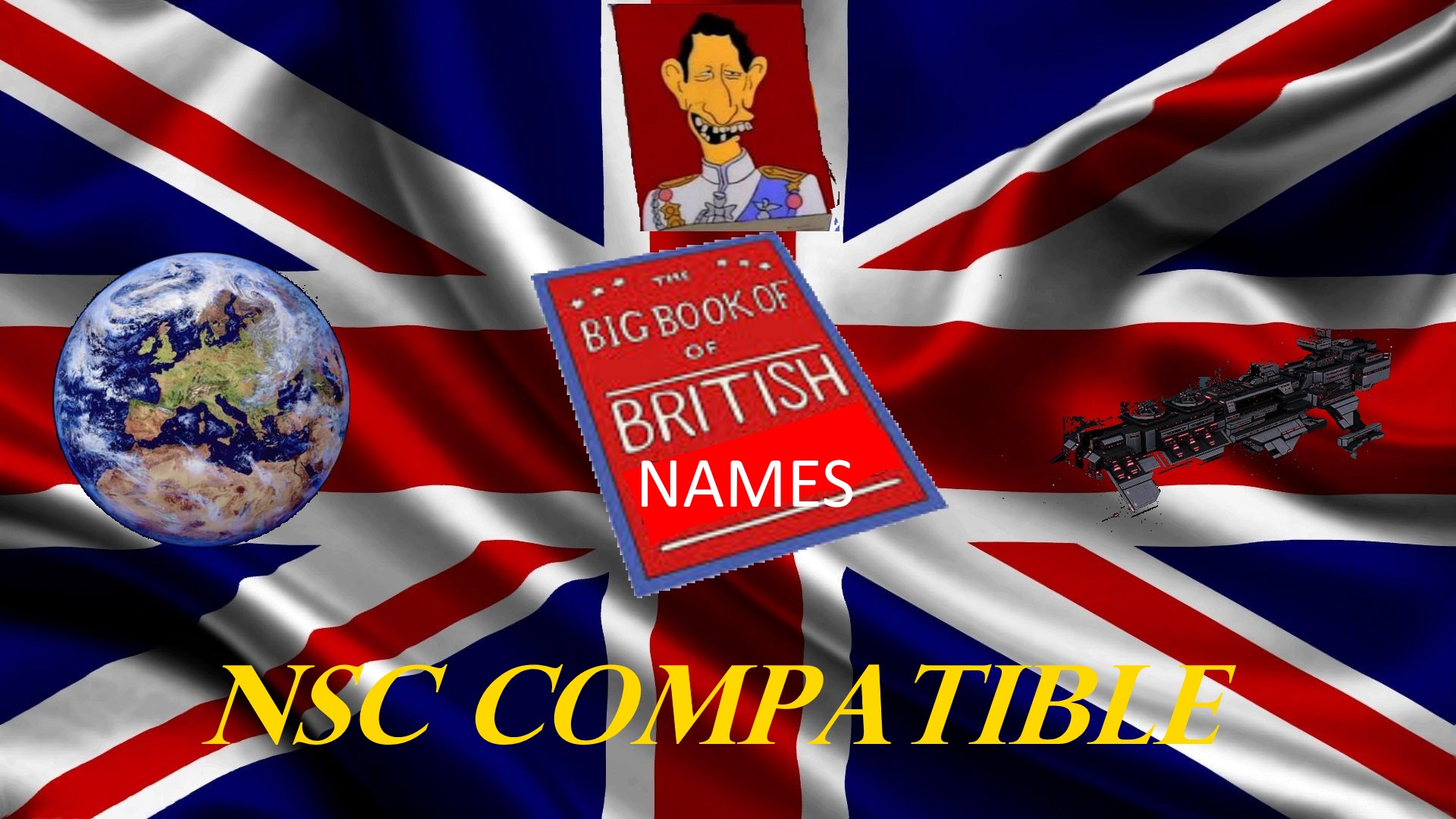 Author:
Jonny Googs
Last revision:
8 Feb at 19:28 2017 UTC
Description:
Nothing much more than a really long list of British and British Empire focused names for Ships, Stations and Planets, for the ship types present in CaptainX3 et al's excellent NSC mod. Built for my British Commonwealth run-through, but could even be a highly cultured Blorg…
A non-exhaustive list of categories includes:
Ships:
– Corvettes, Frigates, Destroyers, Cruisers, Battleships, Carriers named after Royal Navy ships of the same types from 1700s onwards
– Light Carriers named after WW2 Royal Navy Escort Carriers
– Strike Cruisers named after RN Bombships / Fireships
– Battlecruisers named after older Ships of the Line (pre 1707)
– Superdreadnoughts named after WW1 / WW2 Monitors
– Flagships – well, its got to be Victory and Royal Sovereign.
– Constructors named after British engineers from history
– Science ships named after Survey vessels and scientific ships
– Transports named after Royal Fleet Auxiliaries
plus a huge list of commented out Generic names should you desire.
Planets:
– Continental – Famous neolithic and prehistoric sites in the UK
– Desert – Famous bits of Australia and the Middle East
– Arid – Famous parts of the former British Empire in Africa
– Tropical – Islands and other more tropical bits of the former British Empire
– Ocean – Islands in the United Kingdom and the wider British Isles
– Tundra – Battlefields in the UK
– Arctic – Interesting bits of the Arctic and Antarctic
– Gaia – fancy names for Eden, Olympia etc
– Savannah – Roman sites in the UK
– Alpine – Mountains in the UK
– AI – key computer / information scientists and IT pioneers
Names:
– Female and Male leader names based on the most popular 100 baby names in 2015, 2000, 1990 and 1970 and the 100 most popular surnames in those years.
– Regnal names based on British royals from 1066 onwards, surname – Windsor!
Hope you enjoy this, please give me a shout if you find any bugs or owt!