!Giga Ringworld fixes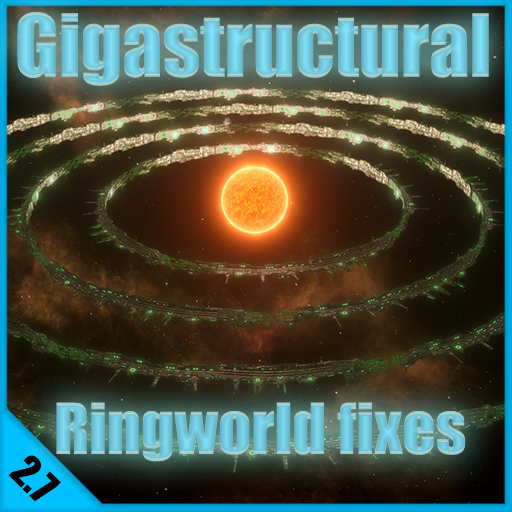 Description:
Description
This mod makes Gigastructural Engineering ringworlds finally use the empire flag color. These were old standing issues that existed with the vanilla ringworlds as well and got carried over.
So if you wanted to have a properly lit ringworlds when using the Gigastructures Mod, then this Mod is for you!
Features
Ecumenopolis ringworlds are now using the flag color properly.
Hive ringworlds are now using the flag color properly.
Machine ringworlds are now using the flag color properly and got their landscape changed. Previously they were using the same textures as the hivemind ringworlds!
Hive, Ecumenopolis and Machine ringworlds now use proper clouds. Previously there were clouds moving in two opposite directions which looked odd.
Added full support for Lithoids ship pack. Now the lithoid gargantuan ringworlds look just as fancy as everybody elses!
Humanoids now use the mammalian texture set instead of the dark default one. This makes it look more in line with their other megastructures visual style.
This mod should be loaded before the Gigastructural Engineering mod. The ASCII mod sorting should have this handled. Also make sure both dependancy mods are active at the same time!