More Crisis and FE ships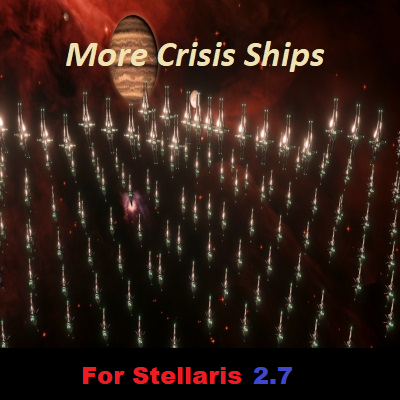 Description:
For Stellaris 2.7.*
Features:
-Massive Fallen Empire Ships (They should now have atleast 2-5m starting fleet)
-Massive Crisis Ships (On vanilla, a crisis of x5 will have at least 1X1M Fleet then the rest AlotX500k Fleet. With this, that 1m fleet is alteast 6M now, the rest, at least 3M fleet power with a total of a not less than 15M+ fleet power all fleet combined.)
Compability:
-Not Compatible with any mod that modifies crisis_events_2.txt
and some specific scripted_effects entry:
create_ai_planet_defense
create_fallen_empire_reinforcements
create_fallen_empire_fleet
create_1st_khan_fleet
create_2nd_khan_fleet
create_marauder_fleet
create_marauder_armies
create_small_marauder_auxiliaries
create_medium_marauder_auxiliaries
create_large_marauder_auxiliaries
create_very_large_marauder_auxiliaries
create_marauder_successor_fleet
swarm_vanguard
swarm_brood
swarm_armies
feral_prethoryn_garrison_1
feral_prethoryn_garrison_2
feral_prethoryn_roaming_1
All of this entry are located in 2 specific files called 00_scripted_effects.txt and prethoryn_fleet_effects.txt.
(But this mod does not replace those files. Only some entry that are listed above.)
Note:
Gray Goo (Tempest) is not modified. Kindly use a mod called "A deadly Tempest" for that.
Recomended Mods:
Patches:
More Crisis and FE ships + F.E.E. 2 Militarist Empire Patch
-This patch allows any AI or Player to build more ships without angrying the Militarist FE. Kindly read the full details in the Desc of its link.
Download
Revisions:
Old revisions of this mod are available below. Click the link to download.