Cheek's Custom Shipsets: Star Trek [Federation]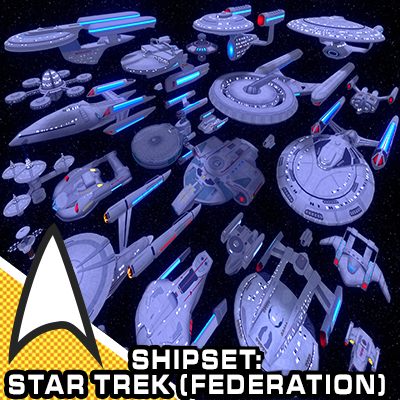 Description:
Updated with Colossus!
Stellaris. The final frontier…
Introducing my own Star Trek themed shipset, with almost 50 custom models and textures depicting ships from Star Trek!
Star Trek has had a long history of kitbashing: creating new ships designs by reusing older models and rearranging the parts. Each ship class, with the exception of the corvette and titan, has been split into sections just like vanilla shipsets.
Destroyers are split into Saucer and Nacelles, while Cruisers and Battleships are divided by Saucer, Hull and Nacelles.
As well as the ships, this shipset adds new Station models. Eventually I plan to update this mod to include megastructures and the upcoming Federations Dreadnought and Mega Shipyard classes.
This mod also adds two new sections, in the form of the Constitution-Class nacelles and Prometheus-Class inverted nacelles, so that more designs are capable of being represented.
NSC2 Compatible – New Models!
The mod is now largely NSC2 complete. I will add more ships over time, but hopefully this will be the last major update.
If you've enjoyed my work, consider supporting me on Patreon, where I will post work in progress of my shipsets to come!
Download
Revisions:
Old revisions of this mod are available below. Click the link to download.