!AlphaMod: Civic Virtues (BETA)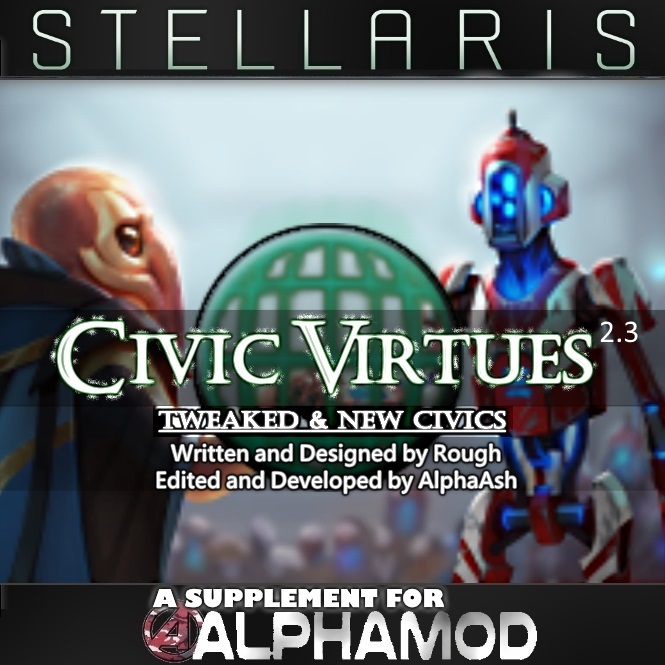 Description:
Rough and I decided we wanted to make civics a lot more characterful than in vanilla, and to tie them heavily into all the new content AlphaMod brings to the game. We wanted to be excited again when we were creating empires, and surprised again when we encountered opposing empires.
So we've added a bunch of new civics and revised a lot of the vanilla civics with those goals in mind.
This supplement is a beta, because we have plans to add more civics, and we're keen to read about your new empires and your experiences. We know that some combinations of civics might prove over-powered, or underwhelming, and whilst we won't be able to please everyone, we do want your feedback and some of that may lead to further revisions.
NEW CIVICS
See the slideshow for more details.
Buy Local, Think Galactic (Pacifist)
Children of the Atom (Materialist)
Communes (Egalitarian)
Elite Easy Living (Authoritarian)
Freedom Molecules (Egalitarian)
Fury Road (Militarist)
Galactic Resorts (Xenophile)
Genetic Inheritance (Xenophobe+Materialist/Not Egalitarian)
Genetic Welfare (Xenophobe)
Hunt the Hunters (Xenophile/Not Pacifist)
Moria-crafting (Materialist)
Natural Harmony (Pacifist)
Nature Worship (Spiritualist+Xenophile)
Science is Sorcery! (Spiritualist)
Stellaristan (Militarist)
Traditional Economy (Authoritarian)
TWEAKED & OVERHAULED VANILLA CIVICS
Many vanilla civics have been revised. Some completely overhauled. See the slideshow for more details on what we've done to them.
PLANS
There's new civics for corporations and gestalts in development.
POP MODIFIERS
AlphaMod includes three pop modifiers that help define some pops as different from others, instead of using traits (for technical reasons). They are: Inexperienced, Qualified, Transcendent.
Civic Virtues adds a bunch more, and many of the civics influence the possibility of 'new born' pops having one (or sometimes more).
Aberrant
This pop is diverging from the normal type.
Communal
This pop contributes to a community of shared ownership and property.
Deviant
This pop is departing from accepted standards of social behaviour.
Healthy
Thanks to genetic welfare, this pop is much more healthy.
Loyal
This pop trusts the state implicitly.
Nomadic
This pop tends to drift around the planet, avoiding settling.
Tribal
This pop claims territory on a planet and will fight to keep it.
Vigilant
This pop is intolerant of social aberrance or deviance.
FAQ
Q – Will there be a standalone version of the mod?
A – Nope. There's not enough content in vanilla to keep the new civics interesting. This is an expansion of civics reliant on an expansion of content. And since the supplement ties into about 90% of AlphaMod's content, it's pointless taking out the 10% that isn't.
This is extra content for players of AlphaMod. Doubtless there are plenty of standalone alternatives that work better with vanilla.
COMPATIBILITY
You need AlphaMod 2.3. It's compatibility notes still apply.
As well as the over-ridden vanilla files listed with AlphaMod, this supplement also over-rides:
common/governments/civics/00_civics.txt
Want to say thanks for the mods I make? Clicky one and cheers for your consideration!

[paypal.me]

[www.patreon.com]

[ko-fi.com]

Download
Revisions:
Old revisions of this mod are available below. Click the link to download.