Equivalent Vassals and Tributaries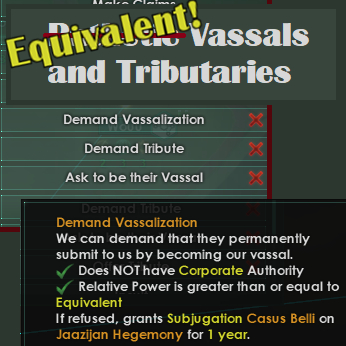 Description:
For Stellaris 2.3.*
Mod Version: 1.2.1
Allows the player to demand vassalization and tribute from any empire they are equivalent to or above.
I made this mod because I was frustrated at times when two of my three stats were superior to the enemy but our relative power was still equivalent.
All I did was add 01_actions.txt in the diplomatic_actions folder with the changes for the diplo actions for demanding vassalization, tribute, etc. If it crashes or doesn't work properly with another mod, check to see if they edit same lines as I did. If you need help with this, subscribed mods can be found at DocumentsParadox InteractiveStellarisworkshop or leave a comment.
Will be updated upon request.
Rate it up if you like it!
Download
Revisions:
Old revisions of this mod are available below. Click the link to download.