Support Traits & Ideolegy Traits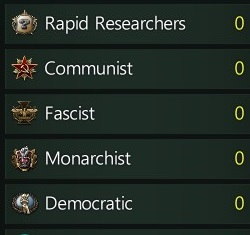 Description:
This mod adds traits for all the species except mechanically!
These traits help you to gain strength as fast as possible.
In addition, there is 4 ideology trait, Fascism, Communist, Monarchist and Democratic to choose from, these traits have their own advantages and disadvantages, beside that you can only use an ideolegy trait for your species.
.
.
.
.
.
THIS MOD IS NOT FINISHED YET
If you have more ideas to improve this mod you can write calmly in the comments
Works with English, German & Russian language settings !!!
Download
Revisions:
Old revisions of this mod are available below. Click the link to download.