GODMODE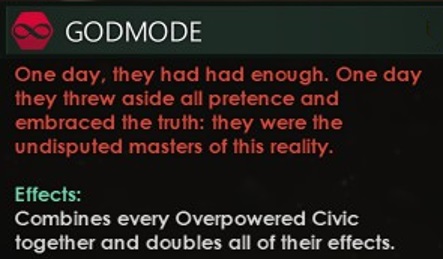 Description:
Standalone version of the GODMODE civic from Overpowered Civics: this version can be added or removed after the start of the game but keep in mind that your economy will collapse the moment you disable it!
Not listed in the effects screenshot:
+75% Pop Growth
Doubles Alloy production
Doubles science ship survey speed and anomaly research speed
Unlike the main mod's version this standalone version of GODMODE grants the "Divine" trait, letting a species start with immortal leaders and +40% habitablity (activating the civic during a game already in progress won't add the trait)
Download
Revisions:
Old revisions of this mod are available below. Click the link to download.