Gestalt World Branch Offices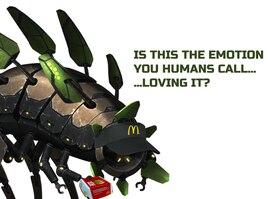 Author:
Ziiro
Last revision:
18 Jan at 20:38 UTC
Description:
2.2.3 & 2.2.4 compatible. Probably not compatible with other mods that affect the files I've listed before. DEFINITELY not compatible with Iron Man.
With this mod, Gestalt Consciousnesses that can engage in diplomacy are now able to establish commercial agreements, and their planets are valid locations for Branch Offices. I have made a unique set of building options for both normal megacorps and criminal syndicates.
There's something to be said for balance concerns, seeing as the Megacorp doesn't get as much out of the commercial agreement. Because their planets generate no trade value, the balancing on the values for these buildings will be ongoing.
Buildings:
Machine Intelligence:
Drone Mining Facility: +1 Mining Job, Produces 15 Minerals
Exotic Restaurant: +1 Agri-drone job, Produces 15 Food (Servitor Only)
Drone Foundry: +1 Fabricator Job, Produces 4 Alloys
Drone Security Outpost: +1 Warrior Drone Job, +12 Naval Cap, +100 Army EXP
Drone Research Facility: +1 Calculator Job, +10/+10/+10 Research
Drone Maintenance Facility: +10 Amenities, Produces 15 Energy
Drone Trade Good Factory: +1 Artisan Drone Job, Produces 10 Consumer Goods
Machine Intelligence Criminal Empire Options, crime values unchanged:
Drone Reclamation Facility: Produces 20 Minerals
Drone Bioharvesting Facility: Produces 20 Food
Drone Bootleg Goods Factory: Produces 15 Consumer Goods
Drone Alloy Skimmer: Produces 5 Alloys
Hijacked Processing Center: +15 Naval Cap
Energy Siphoning Facility: Produces 20 Energy
Subversion Core: Produces 15 Unity
Drone Disassembly Labs: +15/+15/+15 Research
Hivemind:
Hive Drone Mining Facility: +1 Mining Job, Produces 15 Minerals
Agri-Drone Co-op: +1 Agri-done job, Produces 15 Food.
Fair Trade Goods Facility: +1 Artisan Drone Job, Produces 10 Consumer Goods
Hive-Staffed Alloy Foundry: +1 Fabricator Job, Produces 4 Alloys
Security Methodology Testing Center: +1 Warrior Drone Job, +12 Naval Cap, +100 Army EXP
Hivemind-Onemind Outreach Center: +1 Synapse Drone job, Produces 10 Unity
Cooperative Research Facility +1 Brain Drone Job, Produces +10/+10/+10 Research
Product Testing Facility: +10 Amenities, Produces 15 Energy
Hivemind Criminal Empire Options, crime values unchanged):
Mining Siphon Drop-Off: Produces 20 Minerals
Drone Bio Reclamation: Produces 20 Food
Chemical Facility: Produces 15 Consumer Goods
Scavenger Facility: Produces 5 Alloys
Bio-hacking Facility: +15 Naval Cap
Symbiotic Den: Produces 15 Energy.
Hivemind Research Lab: Produces +15/+15/+15 Research
Overwrites:
buildings/14_branch_office_buildings
diplomatic_actions/00_actions
game_rules/00_rules