MVG Unlimited Vassal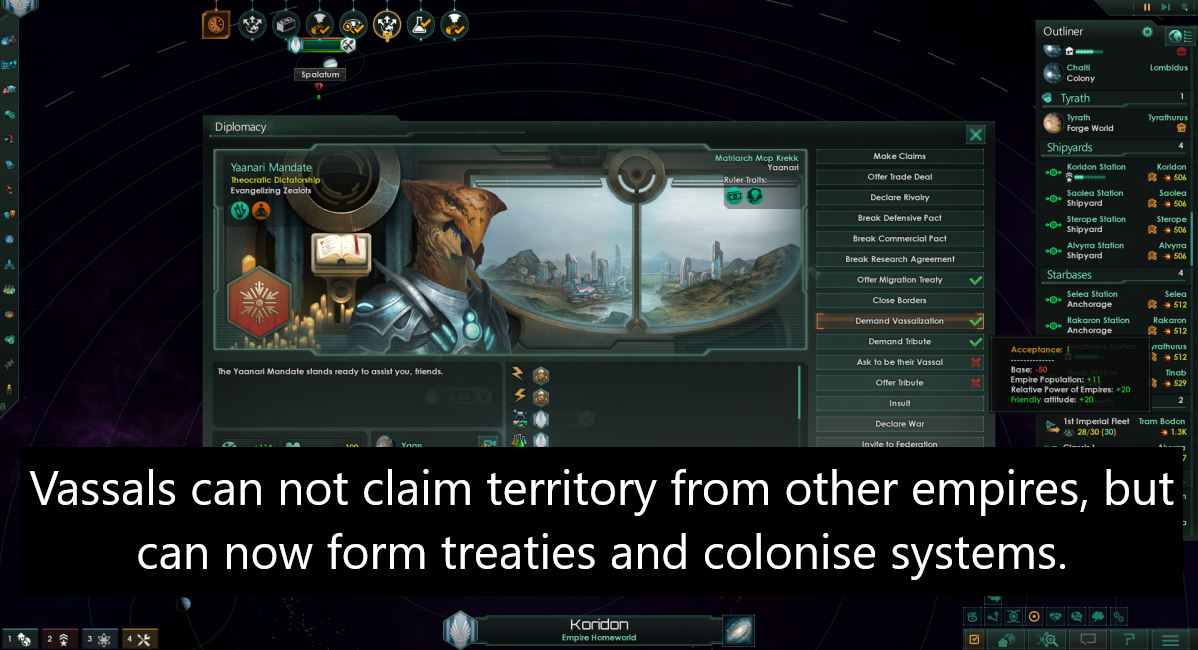 Description:
MisadventuresVG is proud to present… The Unlimited Vassal Mod
This mod has been developed to allow more proactive gameplay from your and other empire vassals without becoming a problem to you diplomatically.
Currently in the vanilla game, when you or other empires vassalization an empire, they sit stuck within their borders silent and unmoving until you either integrate them or go to war with another empire. Now with this mod, your vassals will continue to expand, colonise and form relationships (limited) with other empires while still serving you as a vassal. This makes them stronger and more independent but at the same time helping to strengthen you.
The best part of this mod is that vassals are completed prevented from claiming territory from other empires stopping that annoying issue players have been experiencing when managing vassals. Now your relationships with other empires and your wars will not be soured by over zealous vassals.
Please be aware this is only partly save game compatible. If you intend to use this mod mid-game, you will have to unclaim systems the vassals have claimed manually. They will not be reclaimed afterwards, but the mod does not remove current claims. Sorry 🙁
This mod has been developed to be small, simple able to sit ideally along side other similar mods without interference or patches being required.
Enjoy and if you have any issue please post me a "constructive" comment and I'll look into it.
Current mod support for 2.2.*
MVG Master Mod List:
https://steamcommunity.com/sharedfiles/filedetails/?id=1585303200 – Unlimited Rivalry
https://steamcommunity.com/sharedfiles/filedetails/?id=1585752490 – Unlimited Travel
https://steamcommunity.com/sharedfiles/filedetails/?id=1585783698 – Limited Truce
https://steamcommunity.com/sharedfiles/filedetails/?id=1586111172 – Logical War Exhaustion
https://steamcommunity.com/sharedfiles/filedetails/?id=1586491457 – Logical Population Growth
https://steamcommunity.com/sharedfiles/filedetails/?id=1586837477 – Logical Vassalization
https://steamcommunity.com/sharedfiles/filedetails/?id=1587797614 – Patrol Ship
https://steamcommunity.com/sharedfiles/filedetails/?id=1603524592 – Unlimited Vassal
https://steamcommunity.com/sharedfiles/filedetails/?id=1609676479 – Extended Army