Better Toaster Army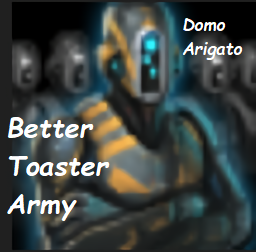 Description:
Return of good Toasters. Makes Robotic Army Great Again™
Why robotic army have to suck? Wow, another Pdx Nonsense!
This mod improves robotic army with varius ways, so robotic army can be a goood toaster™ again!
What this mod do?
* Robotic Defense Army
Robotic Defense Armies gets its army health and damage buffed. So they are no longer waste of defense army slot.
* Synthetic Workers Tech gives Droid Defense Army
Researching Synthetic Workers will unlock Droid Defense Army. (it will auto replace outdated ones.)'
However, Empire with AI outlawed policy will be forced to use old Robotic Defense Army Only.
* Synthetic Evolution grants SPECIAL Robotic Army.
Activating Synthetic Evolution will unlock Synthetic Armies.
Synthetic Defense Army – Ultimate Robot Defenders.
Synthetic Army – Better Version of Robotic Army.
Synthetic Elties – Elite Robotic Army!