Technology Guided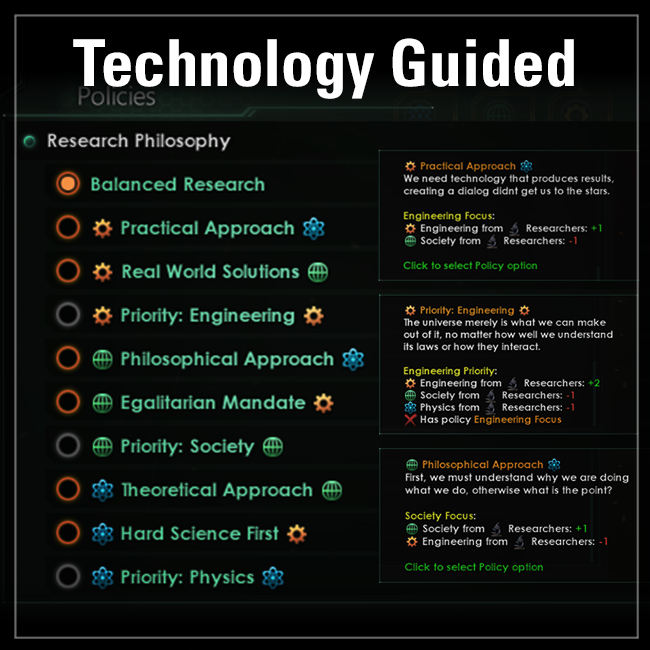 Description:
Empire Policy to Guide Research
The new galactic focus on interdisciplinary studies has shuttered all Engineering Labs, Biology Labs, and Physics Labs, and replaced them with generic Research Labs. A clear instance of galactic over-reach, this new Le Guin Act, is simply unconscionable, Science cannot be contained! Free your empire from the shackles of bad bureaucracy, and pursue science only as you wish to.
Enact a Research Philosophy Policy
Trade +1 research from researchers in engineering, physics, or society for -1 in one of the others. You may eventually further specialize for +2 research for -1 in both other fields, or generalize for +1 in two fields and -2 in one. This effects base planet researcher output, which is normally +4 in all fields, so the max +2 research is a 50% boost (at the expense of a 25% penalty in the other fields). Changing research doctrine is a slow process, so you can only move one level with a single policy change. You can go from balanced to +1 in a field, and next time you can change polices, you can either move on to +2 in that field, or back to a balanced policy.
Compatability
No vanilla files were harmed in the making of this mod. This is a spinoff of my larger technology overhaul mod, Technology Ascendant, which already includes this policy. Do not run both. Built for 2.2.*
Russian Translation by Pegas
Original, full version here:

Try out some of my other Mods
My Precursor Wormholes to Precursor Systems
Local Production Planet diversification bonuses
Objective Complete GameMaster tools
Technology Repeated Repeatable Technologies
[discordapp.com]
Download
Revisions:
Old revisions of this mod are available below. Click the link to download.