(-NSC2 Addon: Civilian Ships Weaponized-)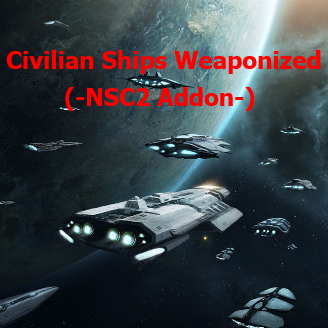 Author:
wooley2000
Last revision:
9 Dec at 12:02 UTC
Description:
Game ver 2.2.1
A small mod to allow editing of civilian ships and stations.
The stations are set to auto update to free up micromanaging;)
With Improved Transport Ship Behaviors and Transport Upgrades! included!! Please go there and rate for the original author: https://steamcommunity.com/sharedfiles/filedetails/?id=1442819122.
Savegame Compatable
Addon for the mods:
(-NSC2 Season 2 – Episode 1 – Mod Version 2.1.x-) – https://steamcommunity.com/workshop/filedetails/?id=683230077
*NOTE*
I made changes to multiple vanilla game files so it probably is not compatible with any mods that alter ships or ship components. Be aware that the AI will use this also in your game.
Link to Vanilla version:
Civilian Ships Weaponized – https://steamcommunity.com/sharedfiles/filedetails/?id=1563576460
Link to addons for other mods:
Civilian Ships Weaponized Addon: Improved Transport Ship Behaviors and Transport Upgrades! – https://steamcommunity.com/sharedfiles/filedetails/?id=1565139809
Civilian Ships Weaponized Addon: Realistic Ships – https://steamcommunity.com/sharedfiles/filedetails/?id=1566894528
Here is a link to the original idea for this mod:
weaponised civilian stations – https://steamcommunity.com/sharedfiles/filedetails/?id=1399893154
The engineer is accepting tips to grease the wheel;)
https://paypal.me/wooley2000