Crisis Manager — Total War Pack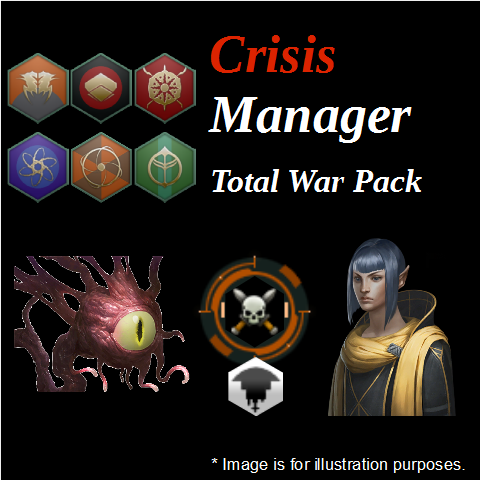 Description:
Caution: Meager Debugging
I cannot spare time for test play and debugging of this mod for the time being.
This means, although I will do minimum update of this mod for new version of Stellaris, any serious bug may remain in this mod and I cannot enough support for the reported bugs.
Description
Space expansion of end-game crisis factions are so slow because their very slow construction of starbases.
If this mod is applied, Starbases of end-game and Horde crisis factions are created without construction ship and they expand faster than vanilla.
Specifically,
A starbase of empires is seized by crisis factions instead of being destroyed, when the factions defeat the starbases in a space combat.


Empires can seize back the starbase by defeating starbase of crisis factions.

A starbase of crisis faction will be build without a construction ship as soon as their military fleet enters unowned stellar system
Although 1st feature is similar to total war, it is not considered as war. So, the crises does not displease pacifists.
Basically, this mod independence from other editions of Crisis Managers and can be used alone or together.
However, End-Game Edition is useful if you want crisis factions to expand even faster.
I hope Prethoryn returns to their past glory.
日本語でのMOD説明 / Description of this mod in Japanese
Version Information, Change Log, Required DLC/mod
Ver. 1.10d (this mod)
For Stellaris 2.3.0/2.3.1/2.3.2/2.3.3
Change logs: written in the log page of End-Game Edition
Required/Recommended DLC: none
Required DLC/mod: none
Recommended mod: Crisis Manager – End-Game Edition
Other editions of this mod: Click here
Latest update
Change logs of this mod are written in the log page of End-Game Edition
Install/Uninstall for Saved Game
This mod can be installed/uninstalled anytime even if any crisis is ongoing.
Features (Details)
Crisis factions do not destroy starbases when they defeat the starbases.
Instead, they get control and ownership of the starbases.


Although this is similar behavior to total war, the game system does NOT consider it a war.
Design of the starbase is changed to the one of crisis factions.
All claims in this system lapse. (Unavoidable specification)

Same as above, an empire gets back control and ownership of a starbase when they defeat the starbase of crisis factions.


The starbase will be outpost, even if it had been a citadel before it was seized by crisis factions.
Claims and former owner are ingored. An empire defeating the starbase gets ownership.
A starbases defeated by Sentinels or Cybrex is given back to former owner.

A starbase of crisis factions is completed as soon as their construction ship or military fleet enter unowned stellar system.


Crisis fleets do not spend a time for waiting construction ship.

Above features is applied to both of end-game crisis and Horde crisis (Great Khan)


The features do not applied to Gray Tempest because they do not have starbases.

(Regrettably, inefficient expansion algorithm of crisis factions' AI is not improved by this mod.)
Compatibility Information:
Click here
to show details
This mod might be incompatible with the mod modifying end-game crisis and/or Horde crisis.
Because, this mod modify their country_type.
This mod checks county_type when a starbase is defeated.
So, this mod may possibly be incompatible with the mod that add new county_type.
* Most (but not all) of mods that expands playable empire do not modify country_type, and they are compatible with this mod.
Other Information
Old version of this mod for Stellaris 2.1 is here.

[drive.google.com]
Download
Revisions:
Old revisions of this mod are available below. Click the link to download.