Space Battleship Arcadia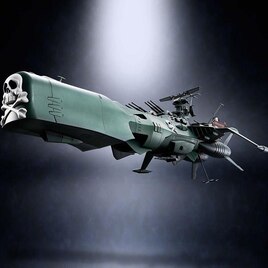 Description:
For Changes, see
Change Log Discussion Thread
Compabilty
-Usually, not compatible with any mod that alters default game pdxmesh loading and/or mods that make big changes to it like NCS and such. (But feel free to try the mod out with that, maybe it's compatible after all because I never used NCS and such, so Im not sure)
Yet Another Stand-Alone Ship Mod
Space Battleship Arcadia from Captain Harlock: Space Pirate / Space Pirate: Captain Harlock
The Arcadia is the ship of Captain Harlock and his crew. It was created by the late Tochiro Oyama as his final gift to his friend Harlock before his inevitable demise.
Features:
-Vanilla Compatible
-Less OP than Yamato Battleship
-Supports Guilli's Ship Components "Crew" (Link Below)
See img for other info.
————————————————————————————-
You can only create a maximum of 10 Space Battleship Arcadia.
Requires Battleship Tech.
————————————————————————————-
Still Work in Progress.
Texture's a bit glossy. Will be fix later on. (I kinda like it right now)
————————————————————————————-
CREDITS:
Model – ttalle
My other ship Mod
Space Battleship Yamato
Dedicated Carrier
Component mod Supported:
NOTE:
This mod is save game compatible. No need to start a new game. Just subscribe and load your save. Once you get the battleship tech, you can build it but you have to design it first.
If ever you want to remove the mod from a save game, do this:
Remove all weapons from your exsisting Arcadia ships and send them to the nearest enemy fleet. Let the enemy destroy them then wait 1-5 years. (Ironman or not, do this) Quit the game and unsubscribe from the mod. Your save should atleast work if no traces of the code of ship is left in the whole galaxy.
Support:
If you have spare coins or anything, pls feel free to donate so I could get more better equipments and/or buy better softwares like 3dmax or anything. I also do accept random steam games. Thanks in advance.
Donate [www.paypal.me]