Custom Machines Animated Portaits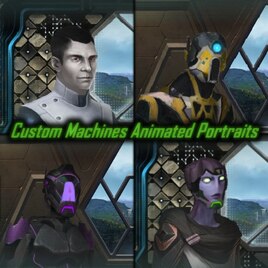 Description:
This is the animated portraits version of the Custom Machines mod, which includes new species, and different ones from my other static portraits mod. El Chupacabra made it possible to recreate animated versions of my previous static ones, and are now available.
STATIC PORTRAITS VERSION: http://steamcommunity.com/sharedfiles/filedetails/?id=1154143998
This mod features 3 new categories and 4 new species:
-Androids: Human-Androids
-Bio-Machines 2: Selix
-Machines 2: Narilon, Deverian
Big thanks to El Chupacabra for animating these portraits, and also the Stellaris team for creating the Synthetics portraits.
You can visit El Chupacabra's blog here:


[www.vmods.org]
Also, you can visit my blog for all my mods, including those which aren't on Steam Workshop:

[speischeese.blogspot.lu]
Note: This is mod includes several animated portraits, but for full mod experience, you should get the other mod, called Custom Machine Static Portraits, available in my collection.