The Great Old Ones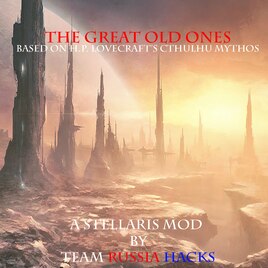 Author:
TheShinji69
Last revision:
14 Dec at 20:04 2018 UTC
Description:
THIS IS A BETA AND NOT READY FOR A COMPLETE PLAYTHROUGH YET!!!
The Great Old Ones is a mod that adds different themes from the Cthulhu mythos – otherwise known as Lovecraft's work – into Stellaris. I singlehandedly made this mod, and it is my first Stellaris mod. I will add more to the mod overtime, and I will try to keep it up to date.
—-Current features—-
-Ship name list
-leader name list
-ship class name list
-planet name list
-cult prayer hall starport module
-great old ones research
-cthulhu rises edict
-cthulhu temple building
-cthulhu monument building
-old ones research lab building
-custom loading screens
-anomalies (Broken)
-Cultists governments (Untested)
-Cultist species (Untested)
—-Upcoming features—-
-civic
-ethic
-ascension path/perk
-species
-more anomalies (!!!)
-special project
-artwork
-and more!
Discord:
https://discord.gg/KRGHTFZ