Plushie Planets!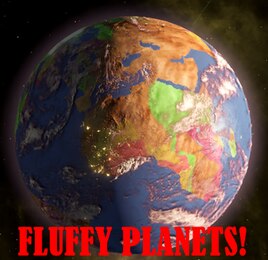 Author:
Elowiny
Last revision:
8 Feb at 17:58 UTC
Description:
A really, really, REALLY stupid expansion to my Plushies Portraits mod. Features Fluffy/Plushies planets and a special Plushie empire that can live on Fluffy Worlds.
NOTE: ALWAYS USE THE FLUFFY TRAIT ALONGSIDE THE CIVIC OR ELSE THE FLUFFY WORLDS WILL HAVE 0% HABITABILITY!
You can now terraform ringworld segments to fluffy ringworlds! Doing so will turn the entire ringworld pink!
Enjoy?