Dynamic Galaxy – Special Projects Extended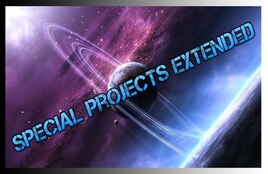 Author:
DrBLOOD
Last revision:
21 Jan at 17:16 UTC
Description:
Indroduction
Hellow guys, have you ever been wondering that despite the fact that you control a part of a damn galaxy, nothing really special happens in your territory unless you start a war? Have you been wondering why the amount of special projects is so small and become boring very quickly ? Well you have come to the right place !
About that mod >
That mod brings up more than 200 NEW SPECIAL PROJECTS for the player and AIs in order to make your gameplay more dynamic, almost anything can happen from the simple study of planet with a science ship to an entire massive space or land battle against new custom ennemies. And of course with rewards at the end including ressources, ships, troops or even modifiers to boost your empire temporaly and give you a certain advantage.
Gameplay
During the game a hidden event will select a random special project among a list of 200+ of them, each special project has it's own requirement to be triggered and the frequency of custom events spawned is editable with a custom policy without talking about the fact that the player can refuse most of them. However you must understand that some of these special projects might be very important for your country and so refusing them may cause problems in your territory. There are also some projects including fleet combats which will not wait for your approval to start.
Each special project will be able to be completed if the conditions are respected especially for the ones requiring ships. The rewards / efforts / times to finish a special project will depend on the 'Tier' difficulty of it. The more the tier is high the less chance it has to spawn especially in early games. They are classified into 4 tiers:
– Tier 1: Easy / Common – Green (Can From the Start)
– Tier 2: Medium / Often – Yellow (Can Appears After 40 Years)
– Tier 3: Hard / Rare – Red (Can Appears After 80 Years)
– Tier 4: Insane / Very Rare – Purple (Can Appears After 120 Years)
Project Spawn Rate Policy
If you want to keep the control of your gameplay by making it easier or harder you have here the possibility to change the spawn frequence of special projects for you and other AIs with that policy.
– Very Rare: 1 Project / 10 Years
– Rare: 1 Project / 5 Years
– Normal: 1 Project / 2 Years
– More: 1 Project / 1 Year
– Lots: 2 Projects / 1 Year
– Chaos: 4 Projects / 1 Year
Limited Language
Also I would like you guys to understand that I'm french so english is clearly not my first language meaning that you will probably find some errors in my texts because of the fact that I am not too skilled and also because of the huge amount of special projects which of course required a lot of time to text edit and not so much time after to make the correction of all my words. So if annyone here would like to help me in making the correction of my texts, but also making better stories or even creating new special projects with their own text, I will be glad to accept them.
Texts Link: https://drive.google.com/file/d/15pdV-8hxTRTaijWyW0jZ4A_yvQAQkFCL/view?usp=sharing
More Informations
– Mod is compatible with old saves.
– No files were replaced so that mod should be compatible with anything.
– AIs can also have most of the projects.
– Should also works in Multiplayer.
To comes in the Future
– More Special Projects.
– New types of Special Projects.
– Maybe an Eng-game Crisis related to a certain tier 4 special project.
Credits for some event Pictures
– EliteCthulhu
– Guilliman
– Malthus