Six Fallen Empires: Return of the Beacons!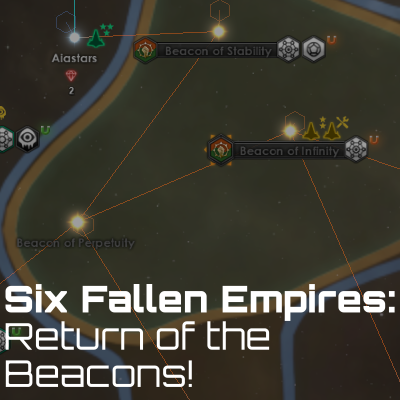 Description:
Requires Synthetic Dawn.
I was sad to see the Beacons of Infinity, Stability, and Perpetuity disappear if you owned Synthetic Dawn, as Wiz justified their removal saying that there would be too many ringworlds if both the Machine FE and Ringworld Materialist FE spawns at the same time.
You cannot have too many ringworlds! With the devs tweaking how FEs spawn to allow more FEs to show up in a given game, this mod now works with most games!
This mod sets the number of fallen empires to spawn at 6 if mapmode is Huge and allows the spawning of a second Materialist FE with the Beacon systems even if Synthetic Dawn is installed. Requires Synthetic Dawn because otherwise you'd still see the Beacons systems anyway of the Font of Knowledge and Archives as Synthetic Dawn disables the spawning of the Ringworld Materialists.
This mod sets at least one Materialist FE to own the broken Beacon of Perpetuity, Beacon of Stability, and Beacon of Infinity system. If all six FEs spawn, two of them will be Materialists, one with the Font of Knowledge and another with the Beacons. If less than 6 fallen empires spawn, it is possible that two of them will be materialists, one with the Font of Knowledge and the other with Beacons.
I also set the Ringworld Materialists to own the Beacon of Perpetuity like they did before 2.0. It felt weird that they didn't have it even if it was broken.
NEW: Beacon of Perpetuity can now be repaired, as it should be!
This is NOT achievement-compatible.
Files modified:
/common/fallen_empires/00_fallen_empire.txt
/common/solar_system_initializers/fallen_empire_initializers.txt
/map/setup_scenarios/huge.txt