Mass Effect Soundtrack – Andromeda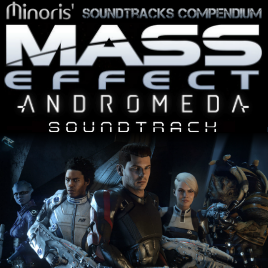 Description:
I'll be totally honest: I really don't know what to feel towards the Andromeda soundtrack. It's good, that's for sure, but Andromeda fails to deliver that emotional blow the original trilogy did so well. So… I didn't really know what song to include and which ones to leave out of the mod.
The end result is quite simple: I didn't bother trying to make a selection. I figured you guys could simply select the songs you want to hear (or not) through the in-game music player and leave it be. (I'm letting you do the actual work while sitting on my hands, basically!)
Compatibility
– Should be compatible with any other mod (please let me know if you have issues)
– Does not deactivate the original soundtrack
– Ironman and achievements compatible
– Supported version: 2.2.* (Le Guin)
Track listing
01 – A Better Beginning
02 – Memories
03 – Exaltation
04 – A Trail of Hope
05 – Khi Tasira
06 – Neutron Purge
07 – Voeld
08 – Hunting the Archon
09 – No More Mercy
10 – Undiscovered
11 – Vault
12 – Resistance
13 – Outlaw
14 – Remnant
15 – Jaardan
16 – First Contact Protocol
17 – Exiled
18 – Heleus


[www.amazon.com]
All credits and copyrights go to Electronic Arts, Bioware and John Paesano.

Mass Effect series

Mass Effect Soundtrack – Andromeda

Other Soundtracks
Download
Revisions:
Old revisions of this mod are available below. Click the link to download.