[JP Localize Patch] Crisis Managers, etc.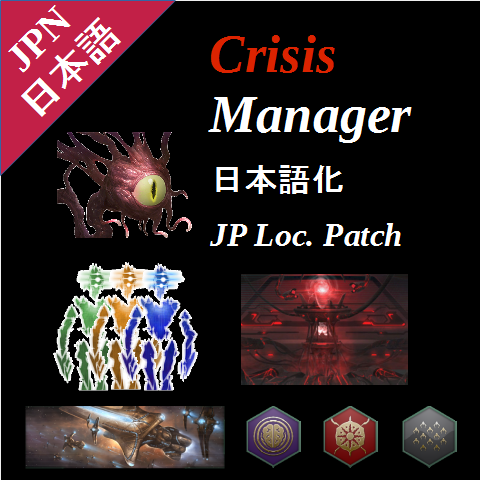 Author:
NaK1119
Last revision:
23 Mar at 02:42 UTC
Description:
概要
本MODは、Crisis Managerシリーズを筆頭とする、私が出しているMOD各種の日本語化パッチです。以下の全てを日本語化しますが、親MOD全てを入れる必要はありません。使いたいMODのみを導入した上で、本MODサブスクライブ時の警告は無視して下さい。
This mod is Japanese localization patch for Crisis Managers and some other mods made by me. It translates following mods to Japanese. It is NOT required to subscribe all of following mods, so please subscribe only mods you want.
Job Managers

その他 / Others

以下、Crisis Manager に限った説明です
(Description of Crisis Manager in Japanese)
概要
Crisis Managerは、危機と没落帝国の覚醒の全てをカスタマイズするためのmodです。
例えば、いつ・いくつの危機が発生し、センチネルが立ち上がり、没落帝国が目覚め、天上戦争をするのか等々が設定可能です。
ついでに、限定的な危機勢力の強さ調整と、手動での各種イベントの強制発動が可能です。
なお、本modの設定画面は、!Mod Menuから、呼び出し可能です。
また、本modの設定項目が非常に多いため、サブMODとしてテンプレートが作成可能です。
作成法についての取説は、この日本語化パッチをサブスクライブした後、そのzipファイルを解凍すると、フォルダ直下に入っています。
取説は日本語ですが、テンプレート自体は英語です。悪しからず。
テンプレートのプリセットもEnd-Game Editionの一部として実装してありますので、お好みでお使い下さい。
Crises ~ Tri-attackより強烈な設定もあるので、銀河を壊したい方は、ぜひお試しあれ。
なお、アップデート情報等は、全てEnd-Game Editionに集約して記載していますので、(英語ですが)そちらを参照して下さい。
管轄
本modは、互換性問題抑制のため、3つのEditionsと2つのPacksに分かれています (比較的大規模なものがEditionです)。
各々の管轄は、以下の通りです。
互換性情報
他modとの互換性については、こちらに記載しています。英語ですが、大したテキストは無いので読む上で支障はないかと思います。
また、一部機能にはDLCが必要です。無いなら無いで当該機能のみ無効化されるため、mod全体としては問題なく使用できます。もし全機能を完全に使用したい場合、Leviathans, Utopia, Synthetic Dawn, Apocalypse, Distant Stars が必要です。