Quadrant Fixed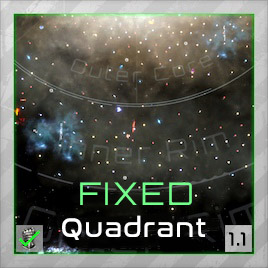 Description:
Adds slowly rotating rings that make the galaxy just a bit more sexy.
Works on any graphical settings.
Achievement-compatible, standalone.
Originally created by Dwaine:
https://steamcommunity.com/sharedfiles/filedetails/?id=1445669234
I fixed a few of the biggest issues, so now the rings don't disappear or spin like crazy. I also removed kpsc measurements because they always annoyed me.
The rings do reset their position when you open the ship designer or enter a system, but I don't think there is any way to change that.
The solution to this allowed and inspired the Pinwheel Galaxy mod, and I recommend you try it as well.
Download
Revisions:
Old revisions of this mod are available below. Click the link to download.