Crisis Manager – Mid-Game Edition [BETA]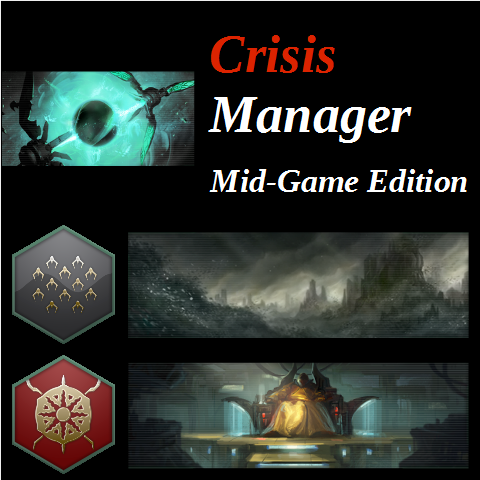 Description:
Caution: Meager Debugging
I cannot spare time for test play and debugging of this mod for the time being.
This means, although I will do minimum update of this mod for new version of Stellaris, any serious bug may remain in this mod and I cannot enough support for the reported bugs.
Summary
This mod is a tool for customizing mid-game crises: Horde Crisis (Great Khan) and Grey Tempest (L-Gate).
For example, timing of Great Khan Reigning, the number of required insights for L-Gate, event when L-Gate is opened, etc.
Although this is sub-mod of End-Game Edition, this mod works without that mod when you are concerned about compatibility with another mod. In this case, a configuration menu is a little labored.
The configuration menu can be opened by !Mod Menu
Several configuration templates is prepared in only End-Game Edition. The template can be replaced if you make templates as sub-mod.
Important
A deadline for setting parameters of L-Gate events are going to come very sooner than other edition.
Concretely, they can be changed till any empire (not only you) finds Gateway or L-Gate.
So, you should set parameters as soon as game start.
Version Information, Change Log, Required DLC/mod
Ver. 1.10d (this mod)
For Stellaris 2.3.0/2.3.1/2.3.2/2.3.3
Change logs: written in the log page of End-Game Edition
Required DLCs: Apocalypse and/or Distant Stars
Required mod: !Mod Menu
Other editions of this mod: Click here
Install/Uninstall for Saved Game
This mod can be installed for ONLY NEW GAME
This mod can be uninstalled safely only when all of following conditions are satisfied.
– Horde Crisis is NOT ongoing.
– Gray Tempest is NOT ongoing.
– Dessanu, who is an empire in L-Gate, does NOT exist.
Features (Details)
Followings can be modified (Main features)


Multiple reigning of Great Khan
Conditions for reigning of Great Khan
Toughness of Great Khan
Conditions for opening L-Gate
Type of event when L-Gate is opened
And others

About Configuration Templates


Preset templates are packaged with only End-Game Edition
User template can be made as mini-mod; the way is written in a web page of End-Game Edition
Although files for user templates are packaged with only End-Game Edition, user template can be enabled without enabling End-Game Edition.
Caution: Only one template mod can be applied.

Manual operation of some events for mid-game crises (Sub features)


You can forcibly awaken and/or kill Great Khan anytime you want.
You can forcibly open L-Gate and/or destroy Gray Tempest anytime you want.
Compatibility Information:
Click here
to show details
This mod is NOT compatible with the mod modifying Horde Crisis and/or L-Gate events.
Maybe this mod is compatible with the mod modifying marauders before Great Khan reigns.
This mod is probably compatible with the mod modifying AI, fleet and/or ship of Horde and/or Gray Tempest.
Other Information
製作者の母語は日本語です。 / My first language is Japanese.
Old version of this mod for Stellaris 2.1 are here.

[drive.google.com]
Download
Revisions:
Old revisions of this mod are available below. Click the link to download.