More Civics in Vanilla Stellaris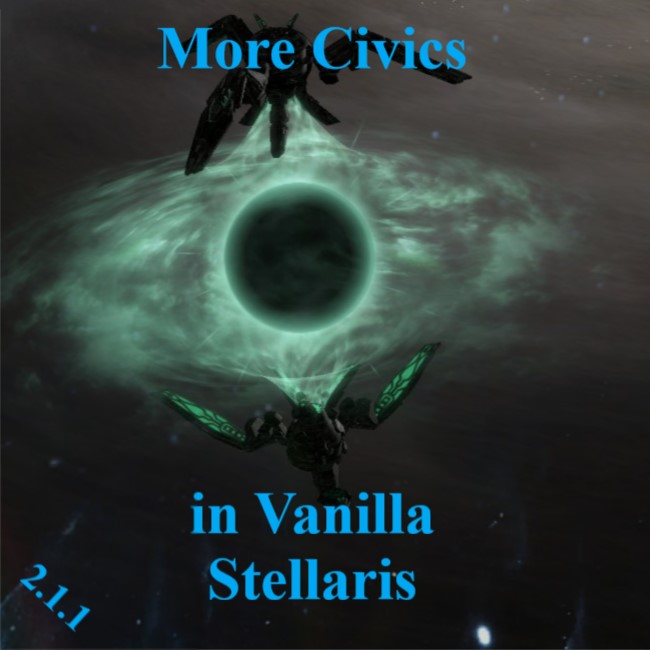 Description:
DISCONTINUED
-Replaced by my shiny new Government Overhaul.
Latest Update
-Added Machine Media civic (icon from Civic Redux)
Description
More Civics in Vanilla Stellaris is a mod that adds many new civics to vanilla from the mod More Civics in Ethics & Civics Rebuild by NewAgeKid52. All credit goes to him for all the files and stuff in this mod, and also to Petruxa, whose work is in the icons for these civics as well as their ideas and probably code.
One of these civics and two icons came from the Civic Redux mod, which is not updated by the original author. If he wants I can remove them, but I thought they should live on.
Their will probably be some oversights and/or bugs. If you find any, please report in the discussion, and don't be afraid to give feedback!
Features
-40 new civics
-1 new personality
-A handful of new governments
Overwritten Files
00_civics
00_governments
00_personalities
00_rules
01_edicts (only temporary)
Bombardment policy
If another mod overwrites these, you may request a compatibility patch.
Compatible with 2.1.1. Untested with the 2.1.2 beta.
Upcoming Updates
-Remove all reference to the ethics that are not in this mod- almost done
-Fanatic Befrienders civic, changes to that personality
-Dread Lords civic and personality
Future Updates
-Full government/civic overhaul
Patches
• AlphaMod: Civic Virtues
• Authoritarian Purge
Download
Revisions:
Old revisions of this mod are available below. Click the link to download.