Repeatable Max Storage Upgrades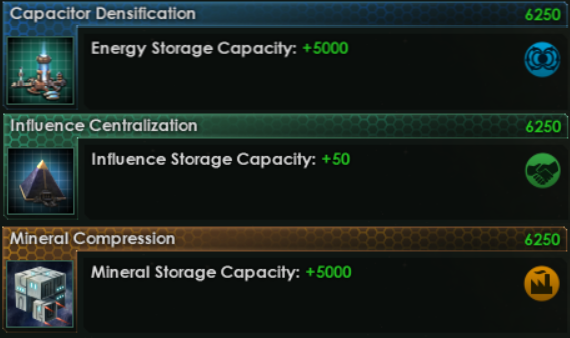 Description:
This mod adds repeatable techs that boost mineral, energy, and influence storage. They work like any other repeatable tech. The AI should also use them so this wont just affect players.
Every level of "Matter Compression" adds 5000 to your empire's mineral storage cap.
Every level of "Capacitor Densification" adds 5000 to your empire's energy storage cap.
Every level of "Influence Centralization" adds 50 to your empire's influence storage cap.
To unlock "Matter Compression" you must research "Advanced Mineral Processing"
To unlock "Capacitor Densification" you must research "Planetary Power Grid"
To unlock "Influence Centralization" you muct research "Galactic Administration"
These techs are capped at 100 repititions to prevent the game from breaking at extremely high capacities.
I got the idea for this mod from a mod by Bedivere but they have stopped updating it and I figured I would do the community a favor and make a new one for 2.0
This mod should be compatable with all other mods as it does not change any base game files.
Not Ironman compatable
If you find any problems or have any suggestions please let me know in the comments below.
If you like this mod you may want to check out:
More Food Storages — https://steamcommunity.com/sharedfiles/filedetails/?id=1432765141
Download
Revisions:
Old revisions of this mod are available below. Click the link to download.