CGO – Curated Gameplay Overhaul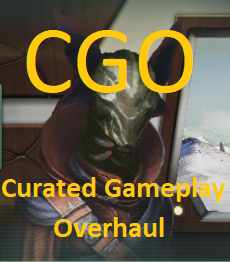 Description:
This is a specially curated mod-pack with several modifications to the original mods on which this overhaul is based on.
This mod is firstly based off of "Petruxa's Cultural Overhaul [Ethics – Civics – Traditions]".
(It's a great mod which I can recommend on it's own as well)
1. I have however made modifications to how the ethics-system works:
*A civilisation has to choose 6-7 ethics (This means that every ethic cost 1 point)
*Every ethic has been adjusted as to have both positive and negative effects
*The ethics Capitalism, Fanatic Capitalism, Socialism and Fanatical Socialism are different from all the other ethics (these are the economic positions of the civ) in that the fanatical versions cost 2 points and allow the civ to only choose 6 ethics instead of 7. Also there are only positive aspects to choosing economic ethics.
2. I have included a selection of trait mods: "Svafa's Expanded Species Traits", "Proxima: Traits" and "Stellaris: More Negative Species Traits". I have however changed a few things in them:
*Every race can choose a mode of consumption (omnivore, carnivore etc.) for free with no trait cost or trait
count cost
*I have also made various minor changes
3. I have included Gatekeeper's "Planetary diversity" which adds 21 new planets including new 16 starting planets. I highly recommend (although these aren't mandatory) Dwaine and SoulDoubt's visual mods:
Immersive Galaxy – Planet Variety, (Reworked) Planetary Diversity
Immersive Galaxy – Planet Variety, Base
Immersive Galaxy – Planet Variety, Inhabitable planets
Immersive Galaxy – Planet Variety, Uninhabitable planets
4. The following mods are mods that i have added in but which I have kept as is:
*Kalash Grum and Condutiarii's "Collection of flags"
*Guilliman's "Guilli's Planet Modifiers"
*Twink315's "Interesting cities" and "interesting Ships"
*Synarix "Free Camera Movement"
*JareeZy "48 Empire Colors Revival"
5. Lastly I have made a minor visual change with my favourite molluscoid race (minor thing).
I have also removed all of the pregenerated civs except for the humans of earth, which i have modified to fit the mod.
I am open for suggestions and other things, but I'm pretty new in the modding community, so I can't guarantee that I can see anything to fruition. And you are of course free to use and edit this mod as you please, as long as it's ok with anyone of the original content creators, I guess.
If you are one of the creators of the following mods and want this removed, for some reason, or to be credited otherwise please contact me and I will abide.
Lastly I give my thanks to the original content creators:
Petruxa for
Cultural Overhaul [Ethics – Civics – Traditions]
Gatekeeper for:
Planetary diversity
Guilliman for
Guilli's Planet Modifiers
Svafa for
Svafa's Expanded Species Traits
Twink315 for
Interesting cities and Interesting ships
Kalash Grum and Condutiarii for
Collection of flags
Krichase for
Proxima: Traits
Simultanious Lovin' for
Stellaris: More Negative Species Traits
JareeZy for
48 Empire Colors Revival
Synarix for
Free Camera Movement
And Dwaine and SoulDoubt for:
Immersive Galaxy – Planet Variety, (Reworked) Planetary Diversity
Immersive Galaxy – Planet Variety, Base
Immersive Galaxy – Planet Variety, Inhabitable planets
Immersive Galaxy – Planet Variety, Uninhabitable planets