Diverse Federation Names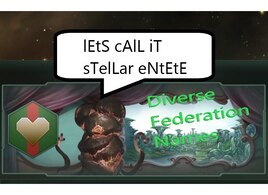 Author:
Gloomy
Last revision:
6 Dec at 19:09 2018 UTC
Description:
I was a bit sick of playing against the "Stellar Entete" or the "Star Compact" for the bassillionth time.
This mod extends the Federation Names from the 119 possible Names in Vanilla to a whopping 8742 possible Names.
A few examples can be seen in the screenshot.
The mod is compatible with Achivments in Ironman Mode.
I am thankful for any Feedback. Please keep in mind that i am not a native speaker, so try not to purge me directly if you find any wrong written words, but please do point out any mistakes.
Enjoy taking apart those a little more diversely named enemy Federations 🙂
Version History
1.0 Initial Release
1.1 Correction of Spelling, added some Names.
1.2 Incorporated many of the changes suggested by oskar.lupus, taking the total possible Names from 6138 to 8742, but more importantly adding a lot more diversity then before. Changed Screenshot to reflect updated Mod.
Credits
Huge thanks to u/saltyteabag from /rStellarisMods, who pointed out that i might give this a go and offered some invaluable help.
Thanks to okscar.lupus for suggesting a whole bunch of new Names and Prefixes.
Translations
German Version by Killy84: https://steamcommunity.com/sharedfiles/filedetails/?id=1427326882