Tech Tier Numbers on Laser Icons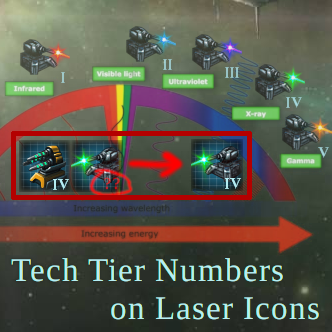 Author:
mk-fg
Last revision:
22 May at 14:38 2018 UTC
Description:
Do Gamma Rays shine yellow? Are X-Rays green?
What are their wavelengths? Which ones carry more energy?
Still confused by electromagnetic spectrum?
Then this mod is for you.
What it does
Replaces technology icons for Laser Weapons by exactly same ones, only with tech tier numbers added in the corner, same as they are on Kinetic Weapons, Missiles, Shields, Armor and every other technologies in Stellaris.
Why they are missing on lasers only is a mystery, which might be revealed in future DLC.
Technical Info
Only replaces five icon files for these laser techs.
Compatible with any Stellaris version and all other mods.
Can be installed and removed at any time.
Bug report thread on PDX forums:
https://forum.paradoxplaza.com/forum/index.php?threads/stellaris-2-0-4-f368-laser-technology-icons-missing-tech-tier-numbers.1097140/