(-New Ship Classes & More Legacy-)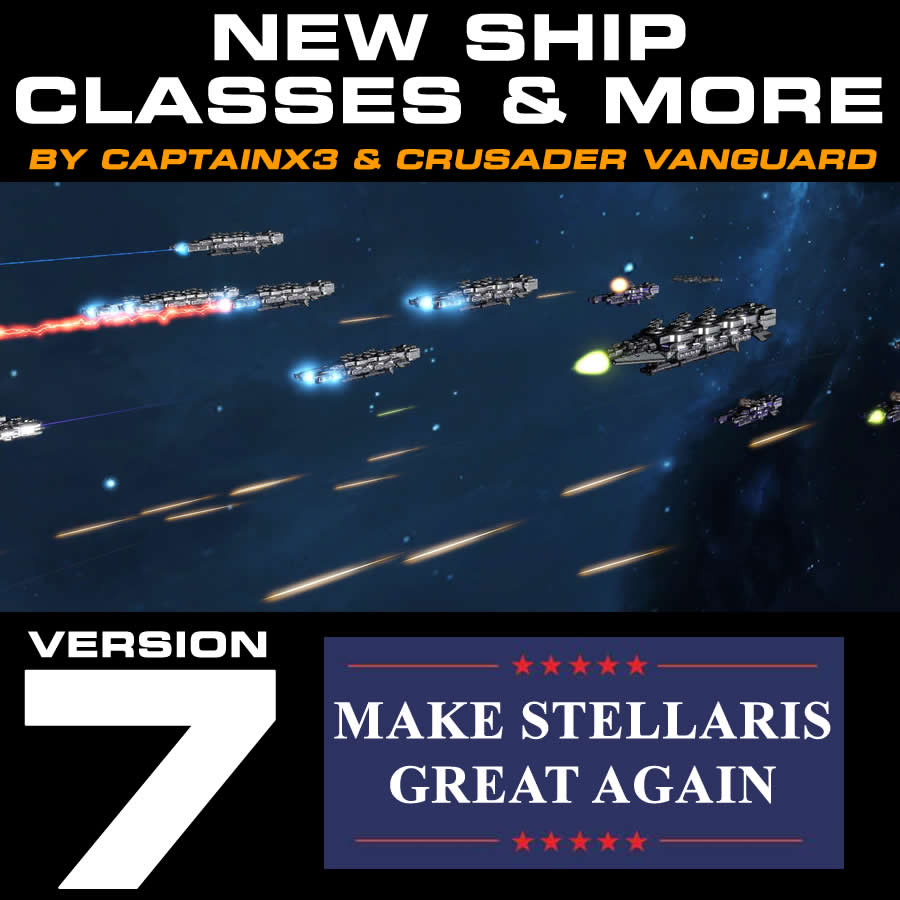 Author:
CaptainX3
Last revision:
3 Mar at 22:47 UTC
Description:

This mod adds new ship classes and many new features to the game. These changes affect all vanilla playable races in the game, and the AI will use all the new ship classes in the same way that the player can.
New Ship Classes: Strike Cruiser, Battlecruiser, Light Carrier, Carrier, Dreadnought, Superdreadnought, Flagship, Construction Cruiser, Science Cruiser.
New Station Classes: Headquarters Station, Sensor Station, Battle Fortress, Power Station, Mining Base, Drydock.
18 New Playable Races: AI, Ancients, Pirates, Swarm, 7 Unbidden Colors, 6 Fallen Empire Types, and a new made-from-scratch race called Creatures of the Void.
Playable Guardians: Allows the player to summon their own Guardian/Leviathan (if they have purchased the Leviathans DLC).
And Much More: Hundreds of other tweaks and changes to improve the gameplay experience.

Before using this mod, it is HIGHLY recommended that you read the Official Mod Guide website. This site has everything that you need to know about the mod and how the new features work.
New Ship Classes & More Legacy Official Mod Guide: http://legacy.nscmod.com

You can join our server and chat with us live in our Lounge, or post ideas and suggestions for us to read! Simply head to the link below to join.
Join the Modding Community: https://discord.gg/K9jUfws
IMPORTANT: This mod requires the UI Overhaul 1080p mod in order for the 5-section Flagship to display properly in the ship designer. If you don't care about how the UI looks in the ship designer, you can use this mod alone with no issues.
HOW TO RESET NSC: If your copy of the mod is not working properly, delete this entire folder from your PC: SteamSteamAppsworkshopcontent2819901319665664 and then unsubscribe and resubscribe to the mod. Verify that Steam is downloading the mod, and then try to run again. You may have to repeat this step a few times to get it working. This is becoming a common problem with Steam and we cannot fix it from our end.
If you're having a problem with the mod, the first step is to read the Frequently Asked Questions posted on the mod website. This FAQ answers roughly 90% of the issues posted in the comments. Read this page first before posting your question: http://legacy.nscmod.com/mod-faqs/
If your issue is not answered on that page, the quickest way to get an answer is to join the Tech Support channel on the NSC Discord here: https://discord.gg/WZq386r
You can also post your question in the Comments section below, although it may take longer for a response. Be aware that if you're asking a question that is already answered on the FAQ page linked above, you'll be directed there to read it.
Copyright 2017 T. Graham. This item is not authorized for posting on Steam, except under the Steam account named CaptainX3. All Rights Reserved.